PRODUCT UPDATE BULLETIN 17 - September 3rd 2013


In this release Webroot delivers many of the highly requested management console features which have formed a major part of the development roadmap for 2013. In this update we are introducing new 'Data Points,' basic support for the Apple Mac platform, and all new Group Management 'Views.'
NEW - Data Points - Following the release of the Alerting Templates made in May this year, more new data points are now available in key areas of the management console. With these enhancements, you will now be able to see who has been infected and when.
NEW - Group Management 'Views' - As part of our ongoing enhancements, this year we are introducing new Group Management 'Views.' These use the endpoint agents to automatically generate new hierarchical group management views for simpler management of complex environments and allow the Administrators see deployed endpoints based on their Active Directory, IP Range, or Workgroup information. The Group Management 'Views' are especially useful for managing users at multiple locations or, if the Administrator is a service provider, the management of multiple customers within a single management console.
NEW - Basic Apple Mac Support - A common request made to Webroot is, "Can you support Macs?" With this release, Administrators are now able to support Apple Macs, installing SecureAnywhere on them within their environment and having them report back to the management console.
NEW - Data Points
Group Management and Scan Data
Within Group Management, both the 'Endpoint' panel and the 'Scan History' panel have the following updates.

New Group Management Data Points
The new Endpoint views are:
Last Internal IP Address
MAC Address
Last Active Directory Information
Last Logged in User

New Scan History Console Views
The new Scan History Views are:
Internal IP at time of scan
MAC Address
Active Directory information at time of scan
Workgroup information
Logged in User at time of scan
Reports Data
All Management Console Reporting will not be able to use the same new data points covered above.
NEW - Group Management 'Views'
Based upon the information being sent by the agent, there will now be the new auto-group 'Views' in addition to the custom Group Management currently offered.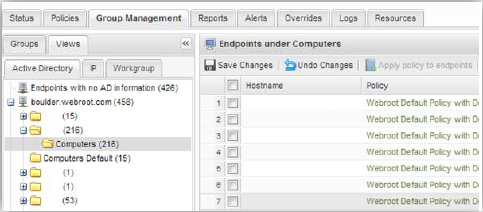 New Active Directory, IP Range, and Workgroup Views
The auto-group views allow Administrators to have hierarchical views of endpoints and users based upon their:
Active Directory hierarchy, "mirror mode" views
IP Range views
Workgroup information views
The Administrator
cannot
move endpoints from within the auto-grouped Group Management 'Views' as this visibility is based upon data provided by the agent. However, the 'View' will change if an endpoint is moved to another group and the agent resends its new view data to the management console.
NEW - Basic Mac Support
Administrators are now able to install SecureAnywhere on Apple Macs as part of their Webroot environment and have them report back to the Endpoint management console.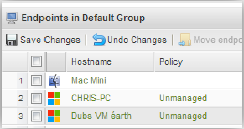 Visual differentiation of Macs from Windows endpoints
We have also added visual identification of Macs differently to Pcs from within the Group Management area to make the Mac agent deployments more visible to Administrators.
However, as it is an Apple Mac OS environment, not all the functions available under Windows are enabled. Below is a list of the enabled and disabled functions.
Enabled Functions:Disabled Functions:
Mac device visibility/check in
Scan Agent Command
Cleanup Agent Command
System Cleanup Agent Command
Lock PC Agent Command
Log Off Agent Command
Reboot Agent Command
Shutdown Agent Command
Deactivate (no uninstall) Agent Command
Health/Infection Status
Reports
Policies
Alerts
Overrides

Resources Apple Mac Agent Deployment
Additionally, we have updated the Resources area to now include a download button for the Mac agent so it may be deployed as easily as the Windows agent.