Just noticed Webroot threat shield not working properly AGAIN!!  This is so annoying and I never had this problem with other anti-virus programs until I got Webroot.  Last time this happened, I was told to do a complete reinstall by someone here which I didn't feel comfortable doing. Luckily, I contacted Webroot Technical Support directly first and they said there was actually an issue with the Google Search Engine which was causing this and they were aware of it and it did resolve itself as they said it would. Now I have the same problem again - first I had spinning circles, then it appeared to work again, and now nothing appears next to search result entries.  I contacted the Technical Support again hoping it was a Google issue again, but they had me run a WSA Log which I did and then they told me to uninstall and reinstall which I don't want to do.  I don't understand why there is not an easier fix for such a small issue. I have Windows 10 Home, use Google Search Engine, use Firefox 86 and have Webroot Internet Security Plus version 9.0.29.62 which it says is the latest version.  Does anyone know of an easier fix??
Best answer by TripleHelix 13 June 2021, 22:52
Hello @pjk2021 
We have to try these steps before sending you to support, you can try this https://chrome.google.com/webstore/detail/webroot-filtering-extensi/kjeghcllfecehndceplomkocgfbklffd
Remove the extension from chrome and then go back and add it back. I have never had issues with the Web Filter in Chrome but others have.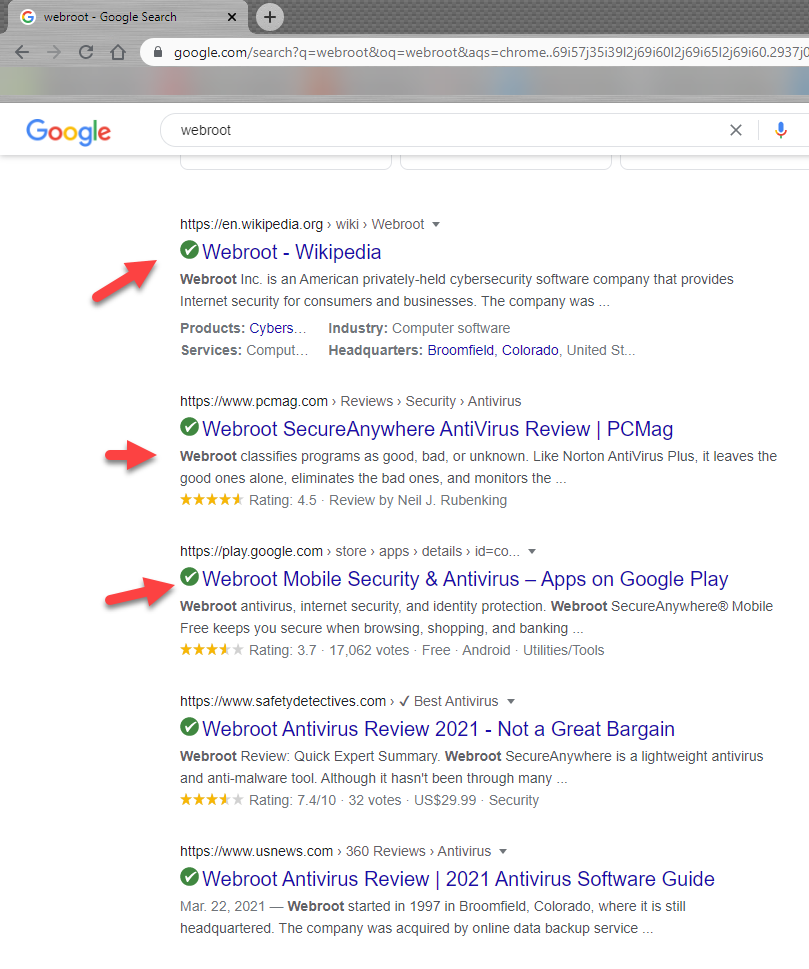 If that doesn't work please contact Webroot support during the week:
Webroot Support:
Call 1-866-612-4227
Thanks,
View original