So far, Barcelona's Mobile World Congress 2013 has brought about a
slew of new mobile devices
and
a new mobile OS
, but not everything has to be directly about mobile to impress at the world's biggest mobile conference. Enter global semiconductor Qualcomm. You probably know them for their Snapdragon systems on chips used in many of today's hottest smartphones and tablets, but at MWC13,
Qualcomm is all about AllJoyn
, an open-source platform (universe?), that'll integrate and connect all of your devices in the future-in other words, serve as an internet of everything.
Rob Chandhok, President of Qualcomm Internet Services, explained:
"If we work on a video protocol-we haven't announced that specifically just yet, but you can see how the following to audio [which we've just announced] would be video-and I want to show slides, I would want it to be: If I'm in the same room as the projector, I want to have [wireless, instant] access to the projector. We think we know how to do some of those experiences. But we also know that we're not going to be the only people that do those sorts of experiences, and that's why we want this to be an open platform."
Qualcomm wants to work both with developers to create an amazing connected experience
as well as with hardware manufacturers so that they can get on board with integrating the AllJoyn technology into their devices. AllJoyn will be pushed as an 'ingredient brand', similar to Bluetooth or NFC. The goal is that it will extend beyond mobile devices, TV's, and speakers, and extend to things like your refrigerator or oven, making the devices more intelligent and useful.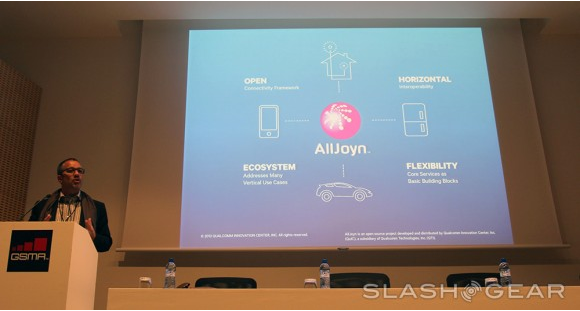 (Source: Slash Gear)