Webroot is pleased to announce we'll be attending the Rocky Mountain Information Security Conference this year! We'll have a booth set up on site, and Webroot's Security Intelligence Director, Grayson Milbourne, will be there answering questions about our security software offerings.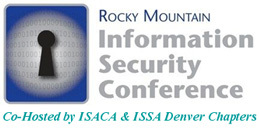 The conference is being held May 22 and 23 at the Colorado Convention Center. Registration is still open, and it's a pretty cheap fee:
From
http://rmisc.squarespace.com/
:
Registration Fees
By April 20
After April 20
ISSA or ISACA Member $140$190
Non-Member$240
$290
Government Employee*
$140
$140
Full Time Student*$95
$95
The Annual Rocky Mountain Information Security Conference (RMISC) is the only conference of its kind in the Rocky Mountain region. A convenient, affordable knowledge-builder for IT security, audit and compliance professionals at all levels. RMISC provides the perfect blend of education, networking and opportunities that are critical to your success in today's economy and security climate!