If you have Webroot security installed:
1)
Open the Webroot SecureAnywhere
program on your computer. The icon can be found in the bottom right of your desktop screen in the system tray. Please note that the color of the icon may change, depending on how close your subscription is to expiration.

You may need to click on the arrow to 'Show hidden icons' in order to find it.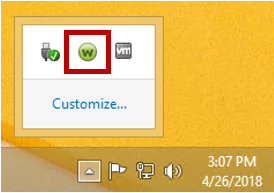 2)
Once the Webroot SecureAnywhere
program is open, click
My Account
.
Your keycode is displayed on that screen.
Note
: If a renewal message appears in your Webroot SecureAnywhere
program window, you can click the message to manage the renewal process.
If you do not have Webroot SecureAnywhere installed: Click here to request a copy of your keycode.