From Facebook to LinkedIn, social media is flat-out rife with phishing attacks. You've probably encountered one before… Do fake Oakley sunglasses sales ring a bell?
Phishing attacks attempt to steal your most private information, posing major risks to your online safety. It's more pressing than ever to have a trained eye to spot and avoid even the most cunning phishing attacks on social media.
Troubled waters
Spammers on social media are masters of their craft and their tactics are demonstrably more effective than their email-based counterparts. According to a report
by ZeroFOX
,
up to 66 percent of spear phishing attacks on social media sites are opened by their targets.
This compares to a roughly 30 percent success rate of spear phishing emails, based on
findings by Verizon
.
Facebook has warned of cybercriminals
targeting personal accounts
in order to steal information that can be used to launch more effective spear phishing attacks. The social network is taking steps to protect users' accounts from hostile data collection, including more customizable security and privacy features such as two-factor authentication. Facebook has also been more active in encouraging users to adopt these enhanced security features, as seen in the in-app message below.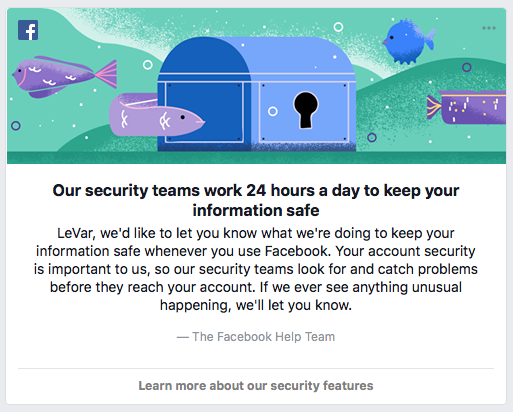 Here are some more tips on how to avoid phishing on social media.