How to issue agent commands when using Webroot Business Endpoint Protection
This solution addresses Webroot Business Endpoint Protection.
This article has two main sections. The first part explains how to issue commands to individual or groups of endpoints. The second part provides a listing of the available commands with detailed information on what each is used for.
Part 1: Issuing agent commands to endpoints
From the Management Portal, you can issue commands to individual endpoints or to a group of endpoints. For example, you might want to scan an endpoint at a remote location. With these commands, you can easily run all the same commands that are available on the endpoint's Webroot agent.
Be aware that the endpoint may not receive the command until the next polling interval. If necessary, you can change the polling interval in its associated policy (see).
Note:
Depending on your access permissions for Commands (
Simple
,
Advanced
, or
Expert
), you may not see all the commands listed in this section.
To issue commands to endpoints in a group:
1. Click the
Group Management
tab.
2. From the
Groups
panel on the left, select the group that contains the desired endpoints.
3. From the
Endpoints
panel on the right, select one or more endpoints.
Tip
: You can select all endpoints within the group by clicking the
Hostname
checkbox at the top of the list (first column).
4. Click
Agent Commands
from the command bar.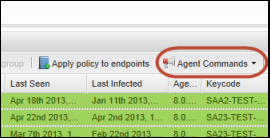 5. From the dialog that opens, select a category of agent commands and then a command to run.
6. To see the status of commands sent, you can click
View commands for selected endpoints
near the bottom of the menu. You can also review the Command Log on the
Logs
tab.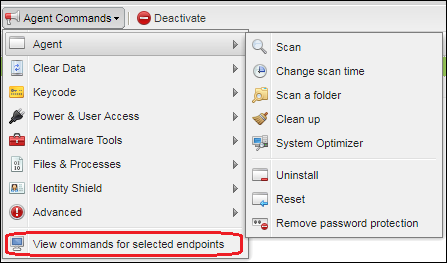 Endpoint Protection will issue the commands via the cloud and the agent will download and execute them during the next polling interval. If necessary, you can change the polling interval in
Basic Configuration
of the group's policy (see the following example).
TIP:
You can force an endpoint to poll in immediately by right clicking the agent icon and selecting
Refresh Configuration
. This forces the agent to check for outstanding agent commands, version updates or policy changes. After clicking this option, you will see the message posted below, this is simply an informational message for users informing them that forcing updates is not needed to update definitions or the software.

Part 2: Agent commands list and description
To see a list of the existing agent commands and more information on what each is used for,
click here
.