Perspectives from IT pros worldwide
It's sort of a paradox in our industry: most IT professionals are looking to incorporate AI and machine learning (ML) into their cybersecurity stacks, but many also freely admit to not totally grasping the technologies themselves. Ultimately, these tools can help to up the cyber resilience of businesses of all sizes, but they must be better understood by today's IT professionals before doing so.
"Realistically, we can't expect to stop sophisticated attacks if more than half of IT decision makers don't understand AI/ML-based cybersecurity tools," says Hal Lonas, SVP and CTO for SMB and Consumer at OpenText.
"We need to do better. That means more training and more emphasis not only on our tools and their capabilities, but also on our teams' ability to use them to their best advantage."
Well, if you want to change something, you need to measure it.
That's why, in a follow-up to earlier related studies, Webroot surveyed 800 IT professionals with cybersecurity decision-making power across the US, UK, Japan, and Australia/New Zealand at the end of 2019 to get their thoughts on AI/ML in cybersecurity.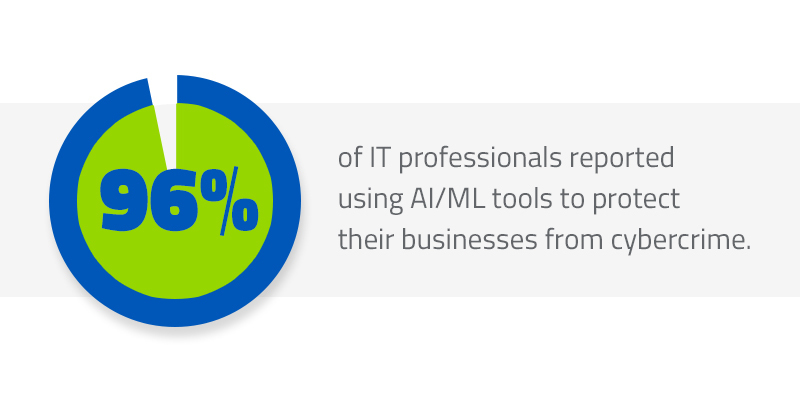 What We Found
Between 2017 and late 2019, the adoption of AI/ML technologies for cybersecurity was nearly completed, at least among the individuals we surveyed. A full 96% of IT professionals reported using such tools to protect their businesses from cybercrime, up from 74% in 2017.
That rate of adoption was not, sadly, accompanied by a similar growth in understanding. More than half of IT decision makers still admit to not fully understanding the benefits of these tools.
A number of other misconceptions about AI/ML persist as well. Globally, 42% of respondents fear AI/ML will render cybersecurity professionals obsolete, despite analyst predicting the opposite effect. A majority of respondents were also unsure of exactly what added capabilities AI/ML provide.
Overall, the top five reported roles AI and machine learning capabilities play in global cybersecurity programs are:
Threat alerts and detection (69%)
Automated network analysis (62%)
Pattern recognition (59%)
Email scanning (59%)
Threat hunting (58%)
What It Means
Ultimately the findings of this report suggest continued confusion and lack of understanding of the use cases and capabilities of AI/ML-based cybersecurity tools. A general distrust in their capabilities persists, at least in part due to the spin put on these technologies by marketers and vendors. To build the capabilities they need to be resilient against cyber attacks and other IT challenges, this problem must be tackled.
To address gaps in both security and understanding, Webroot recommends an ongoing campaign of:
Continuing cybersecurity education for IT professionals, especially centering around AI/ML technologies and their use in today's threat landscape
Working to increase awareness of non-IT decision makers within organizations regarding which tools are necessary to protect businesses from increasingly relentless cyberattacks
Standardizing the terminology and application of the technologies across the IT industry
For more on IT professionals' feelings on AI/ML, included views on cybersecurity spending, use cases, how to respond to rising cybercrimine, and overcoming misconceptions, download the full report.
Don't miss out on our LIVE Q&A with @TylerM and let's clear up this confusion!