Illegal streaming of sporting events is being marketed to consumers as an alternative to legitimate streaming services, but potential users must understand the risk to which they expose themselves when they choose to watch content illegally.
As this timely report from OpenText Security Solutions makes clear, illegal streams open up a gateway for criminals to access bank accounts, commit fraud, and install malicious software. In addition, the operators and sellers of illegal streams ignore the perils relating to child safety by offering unfiltered access to explicit content.
To protect your personal and financial details, and your family's safety, the secure and safe way to watch content is through legitimate providers.
Check out the full report attached below!
Introduction
With the return of the Premier League and with big showcase events hitting our screens, we wanted to better understand the risks faced by sports fans when venturing onto illegal streaming sites.
So, we examined some of the most common "free-to-view" sites, analysing 50 of the most popular ones during several major sporting events over the past couple of months.
The results were shocking. Practically every site had links to malicious or misleading content of some kind. But what's more alarming is the variety and scope of damage these sites – even ones you may believe to be relatively "safe"– can inflict.
So, we'll dive into some of the common threats so fans can decide whether using illegal streaming websites is really worth the risk.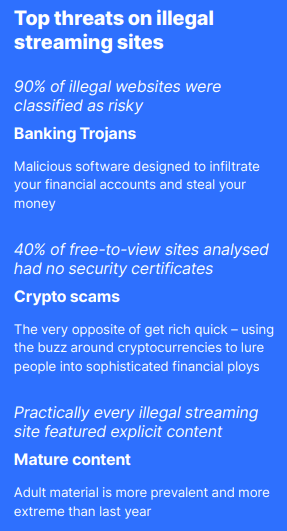 The real threats we saw on illegal streaming sites
Illegal streaming sites are not the same as official streaming platforms. Legitimate content providers rely on either advertising or subscription models to generate their revenue – because content isn't free to make or host. But illegal streaming sites also need to make money, and while there are many questionable adverts across their pages, one of the main ways they generate income is by giving cyber criminals access to you.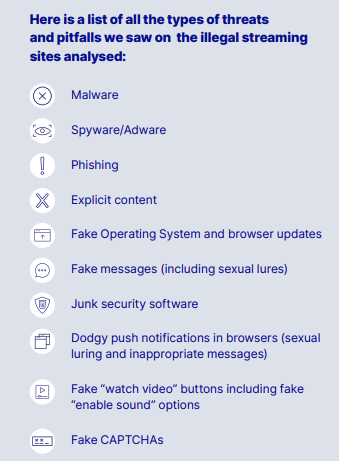 Dishonest links and dodgy notifications
If you've ever come across an illegal streaming site, one thing that's hard to miss is the array of cleverly designed buttons and pop-ups vying for your attention and trying to convince you to click on them.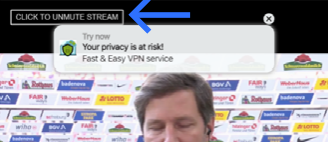 Links are a common feature on many sites, but they're particularly concerning on "free-to-view" ones because pirates don't want to protect you. As a result, they leave the door wide open to cybercriminals experienced in using social engineering and fraud to trick you into clicking on something.
They deploy an array of tricks, such as fake 'X' boxes on video overlays, false notification pop-ups, messages promising spurious offers, or warnings that are designed to scare you into taking dangerous actions.
One tactic we saw frequently used was to mute the sound of a stream and offer to "re-enable" it if you click on a button. However, this link will lead you to download an alternative player with malicious elements.
Crypto scams – the very opposite of get rich quick
With the growing popularity of cryptocurrency, many trojans are now being designed to infiltrate any crypto apps you may have on your smartphone. These often use redirects or pop-ups to show users fake, localised stories that feature local politicians or celebrities promising them riches if they simply share their bank details.
Because of the lack of security on illegal streaming sites, scammers can view the IP addresses of those on the webpage and use them to send personalised and incredibly convincing scams, sometimes even imitating popular media publishing sites to sell the lie.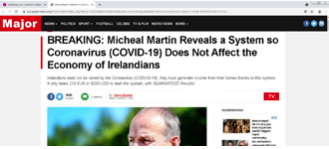 Criminals even take into consideration the current price of bitcoin and other cryptocurrencies and will often switch to scams for other types of investment platforms when crypto prices are low.