Our acquisition by OpenText enables us to deliver faster, better and more resilient products and experiences for you, thanks to new leverage and increased investment in the SMB space.
We are at a key milestone in our integration journey across Carbonite, Webroot and OpenText – one that brings change but also new opportunities and benefits for our customers. Above all, we remain 100% committed to our partners, focusing on cyber resilience by providing efficacy, automation and product innovation in our suite of data protection and cybersecurity solutions. We're excited about this next step, which will improve our ability to serve you, our partner, and help grow your business.
To start, we've updated the overall "look and feel" in our partner portals and expanded the available content to include the latest cybersecurity and data protection research, reports and enablement resources for you and your customers.
Check Out the Changes
Please note: viewing the changes to the Webroot Partner Certification Training Portal require a few quick steps on your part. Scroll down for more specific details.
Carbonite Partner Portal
Visit my.carbonite.com to view the new layout and content.
 
Webroot Partner Toolkit
Visit webroot.flow.tiekinetix.net to view the new layout and content.
 
Webroot Partner Certification Portal (LMS)
In addition to certifications for selling and supporting Webroot® products, you will now be able to train and get certified in the Carbonite® solution portfolio. To add the Carbonite catalog to your portal, please follow these quick steps.
1. Visit webroot.force.com/training and log into your Partner Certification account.
2. Open the Catalog tab.
3. Click the Catalog toggle button in the left side panel of your portal to open the Catalog drop-down menu.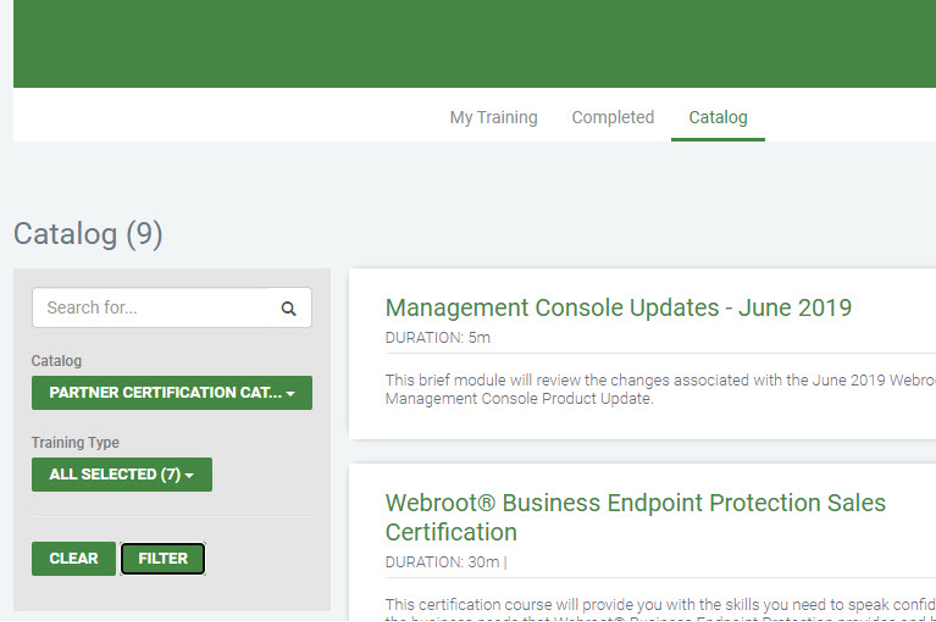 4. From the Catalog drop-down, choose Select All.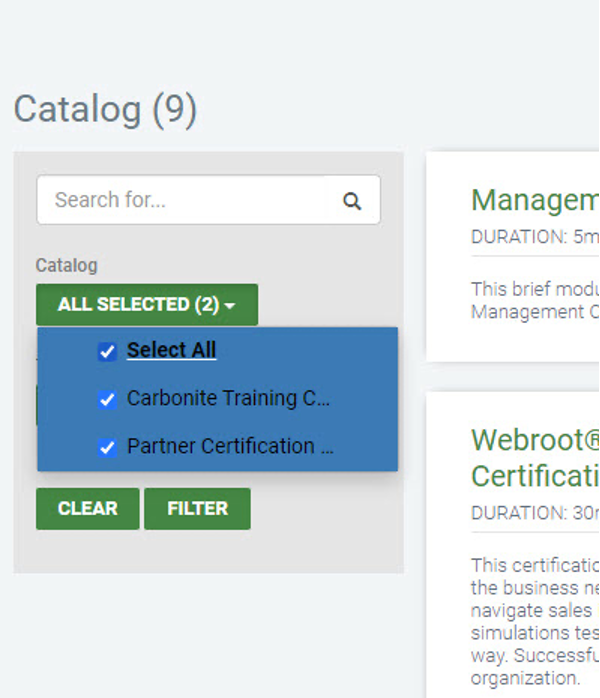 5. Now click Filter. You will now see new Carbonite content in your Catalog, as shown below.
In the coming months, you can expect to see additional updates that will make it easier for you to stay on top of industry trends and get training on our full range of solutions.
If you have any questions about the updates or need assistance with your Partner Portal, please leave a comment below and we'll be happy to help.