We received some great news from a very well-respected analyst report and couldn't wait to share. As you know, we like to preach the good news of security awareness training around here. We've seen firsthand how it can help stem one of the most common sources of cybersecurity breaches around: user error.
That's why we're proud to announce we were named "A Strong Performer" in Security Awareness Training Solutions by the leading independent research firm Forrester in The Forrester Wave™: Security Awareness And Training Solutions, Q1 2020.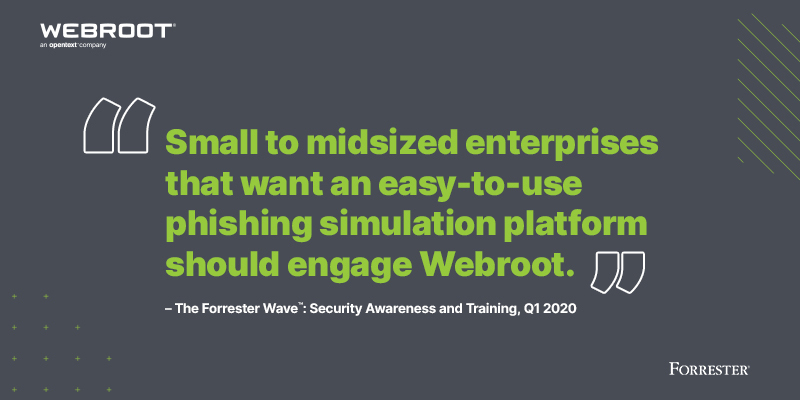 Here's what the report had to say about the importance of security awareness training for organizational success and overall cyber resilience:
"Organizations with strong security cultures have employees who are educated, enabled, and enthusiastic about their personal cybersafety and that of their employer. Successful vendors help CISOs create and foster a good security culture, making security part of the vision and values of everyone in the organization."
We couldn't agree more. After all, this is what our data from the 2020 Webroot Threat Report tells us about the benefits of ongoing security training for end users:
Running 1-5 security awareness campaigns over 1-2 months showed an average click rate of 37% on phishing simulations.  

Running 6-10 campaigns and training over 3-4 months reduced the click rate to 28%.

Running 11 or more courses over 4-6 months dropped the rate to 13%.
When you consider that business email compromise (BEC) alone, only one of many types of phishing attack, cost businesses more than $1.7 billion in 2018 according to the FBI, it's clear to see why this type of training is a sensible investment.
Focus on MSPs and SMBs
The Forrester report noted Webroot's focus on MSPs and SMBs, giving it the highest possible scores in the solution integrations and user experience roadmap criteria.
Here are some other things the Forrester Research report said about us:
"Small to midsized enterprises that want an easy-to-use phishing simulation platform should engage Webroot."

"Webroot's user interface is tidy and easy to navigate."

"Customer references liked the engaging content and the platform's ease of use and cost..."
As an SMB and MSP-focused cybersecurity provider, we've prioritized the channel by emphasizing integration and ease-of-use alongside several other data security and data protection solutions.
Given the 640% rise we found in active phishing sites over 2019, Webroot believes this common and expensive cybercrime tactic should be a priority for CISOs and other IT professionals charged with protecting their organizations from attack. Training users to recognize phishing and other common forms of cybercrime is a cost-effective way to do so, especially when one considers the average cost of a data breach today.