Overview
This October's console release adds many new features and capabilities to allow deeper policy control of your Webroot
DNS Protection service, and easier everyday management of our award-winning Webroot
Security Awareness Training. This release also includes the addition of API access and reporting to the business version of the management console.
As a reminder to all endpoint security Administrators, please ensure you have now enabled your endpoint protection Script Shield. This is an essential and very effective security protection and prevention component. In addition, for Mac deployments, we are pleased to announce support for Apple's latest operating system version, macOS 11 (also known as Big Sur). It is fully supported with Webroot
Business Endpoint Protection agent version 9.1.3 and above.
Details on macOS agent upgrades to agent version 9.1.3 are here on the Business Community site, and details on enabling Script Shield are here.
Highlights in this release include:
Webroot DNS Protection:
DNS Privacy Policy Settings for DNS over HTTPS– You now have the ability to opt for complete user request privacy while preserving the essential DNS policy security filtering.

Google SafeSearch Filtering – The Google SafeSearch Engine is now integrated into the Webroot DNS Service so it may be added as an extra filter to the existing URL categories.

Enable Agent on Servers – The new default setting for running the DNS agent servers is now off, so for future deployments on servers, you will need to switch DNS on.
Webroot Security Awareness Training:
Auto-Enrollment – Administrators can now add new users automatically rather than duplicating or re-launching a campaign(s) to reach new users that have been added since a campaign was launched.

Microsoft Azure AD Integration – Unlike older Azure AD integrations, Webroot's SCIM-based integration is available to any organization subscribed to Microsoft 365 and does not require anything else to be installed. It also keeps users in the Webroot Security Awareness Training management console in sync with the AD tenant, so you no longer need to upload files or manually create users.

New Training and Phishing Content–In the past quarter, over 15 new training modules added, including coverage of COVID scams and compliance courses on CCPA, GDPR, HIPAA and PCI. In addition, many new phishing templates and an easy-to-use template editor are now available.
API addition to the business version of the management console:
API Access – Creating API client credentials allows you to connect with the Unity API system using a secure, authenticated connection between the Webroot management console and your managed systems. This, in turn, allows you to automate billing, reporting, deployment and other processes.

API Reporting – Using the Webroot Universal Reporter tool you can now create customized reports enabling you to save time and show real value from any data source.

API Access and API Reporting – Both of these features are already available for users of the Managed Service Provider version of the management console.
New features in this release
Privacy Policy Settings
The new DNS Policy tab now offers Privacy Settings for DOH (DNS over HTTPS) requests, including the ability to opt for complete user request privacy while still preserving the essential DNS policy security filtering. The ideal setting for GDPR or other compliance standards.

New DNS Privacy Policy Panel for DoH and DNS requests
There are three Privacy Settings options now available:
Hide User Information – Selecting this option for a user or group of users turns off logging of all requests within a policy so user data such as "User" and "Domain" are not collected for any requests made either via the DNS Agent or at a network level. We do however retain data like IP address and Domain in case later troubleshooting is required. However, automatic DNS and DoH security filtering policy and any web URL category access restrictions are still enforced and applied to user or network requests.

Selecting Privacy Setting - 'Hide User Information'
Local Echo – Selecting this option routes DNS and DoH requests to both the local DNS servers inside your network AND Webroot's DNS service servers in the Google cloud. This allows DNS request data to be collected from your local DNS server(s) to provide request data for further analysis or to feed a SIM/SIEM/MDR/XDR security tool.

Selecting Privacy Setting - 'Local Echo'
Fail Open – In the unlikely event that the Webroot DNS Protection service is unreachable and not able to process your requests, all DNS and DoH requests are automatically routed to your local DNS server(s) to resolve those requests instead of through Webroot.

Selecting Privacy Setting - 'Fail Open'
Enabling Google SafeSearch
Google SafeSearch filtering is now integrated into the Webroot DNS Service so it is easily added to any existing filtering policy. As Google SafeSearch requests are filtered in our cloud, the SafeSearch engine filters are automatically applied to any request, regardless of source, if added to a policy. As a cloud policy, there is also no need to worry about the application generating requests, as the policy covers all requests without any further implementation work being needed.

Selecting Additional Filtering – Enabling Google SafeSearch
Note: Google SafeSearch was designed particularly for kids and students to only show safe search results. It automatically filters and blocks inappropriate adult content from search results, and returns only requests with the "right kind" of content. It is therefore highly recommended for Education, Public Wi-Fi hotspots or in a WFH-protected environment.
Enable DNS Agent on Servers
By having the Webroot DNS Agent installed on all the Servers you run, you will get visibility by server name of all Internet requests made. However, on the wrong server this can cause conflict issues (an internal DNS server for instance) and the data will be rarely or ever used. To avoid any such conflicts in the future the default server setting in the Agent is disabled on Servers.
In the future, as an Administrator, you will have to consciously select the enabling of DNS agents on servers. Customers who already run the DNS Agent on their servers will not be affected by this change.

Selecting – Enable Agent on Servers
Webroot Security Awareness Training:
The ability to create training campaigns that auto-enroll new users is a major time-saver for administrators. Combined with Microsoft Azure AD integration for importing users, this really helps you automate security awareness campaigns. Webroot also continues to introduce timely new training and phishing content every month. All of these features are now available on both our Managed Service Provider and business management consoles.
Microsoft Azure Integration – All Consoles:
Microsoft Azure Active Directory (AD) integration keeps users in the Webroot Security Awareness Training console in sync with the AD tenant, so you don't need to upload CSV or LDIF files, or manually create users, although these options are available (if you require or prefer them). Azure integration helps automate the initial import of target trainees, as well as the future adding/ removing of user trainees as they join or leave your organization. Webroot's SCIM-based integration is available to any organization subscribed to Microsoft 365 and does not require anything to be installed, making it much easier and faster to use and deploy. A video covering Webroot Security Awareness Training and Microsoft Azure AD integration is available here.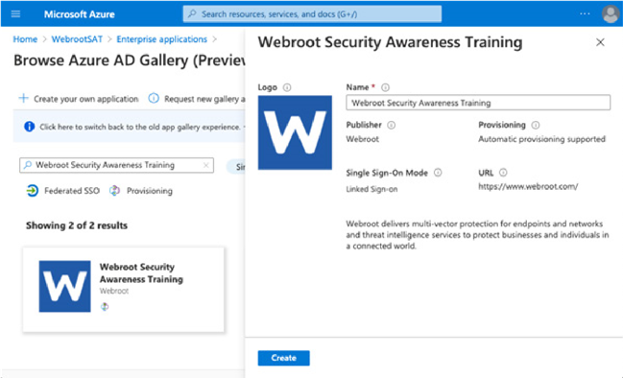 The new SCIM-based Azure AD Application
Auto-Enrollment
When creating a new training or phishing campaign, administrators now have the option to turn on a new Auto-Enrollment function. When selected, this will automatically enroll any new trainee users and ensure they receive that campaign's email communications automatically.
With this option enabled, administrators no longer have to duplicate or re-launch campaigns to reach new user trainees that have been employed or added since the campaign was originally launched.
Auto-Enrollment of New Users/Trainees
New Training and Phishing Content
Since July we have added over 15 new training modules from NINJIO, including coverage of COVID scams and compliance courses on CCPA, GDPR, HIPAA and PCI. We have added new Webroot courses and considerably expanded the phishing email templates and lure pages based on real world attacks that impersonate popular online productivity and collaboration tools. We have also added a new template editor to make the tailoring of internal or personalized phishing templates very easy.
Overall, there are now nearly 100 training courses covering Security, Compliance, IT and Business Skills, plus over 200 up-todate, real-world phishing examples. And all courses are now available when trialling Webroot Security Awareness Training too.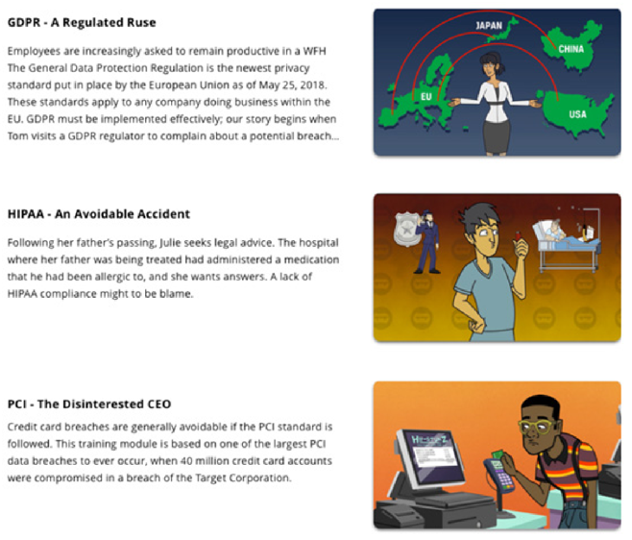 New Courses and Templates Added Monthly
API Access and Reporting for the Business Management Console
Already available in our MSP (Managed Service Provider) Console, and now available in the business console, the Webroot API platform allows administrators to create their own applications (or enrich their existing applications) with data and functions provided directly from the Webroot cloud (for example, using APIextracted data to enrich reporting, or using the credentials in a supported Webroot RMM plugin for turning on advanced features).
By creating your own client credentials for authenticating against the API platform, leveraging the powerful console web API is only a small step away. Client credentials (i.e. a client identifier and client secret) are used to identify your application talking to the API platform. In addition, when authenticating with the API, users of your application specify their regular Webroot console login credentials to gain access to provided GSM and site management data and functions.
API Access
API Access can be found under the Settings section in the console.

Accessing the API console
API Reporting (Universal Reporter)
API Reporting can also be found under the Reports section in the console.
Accessing Universal Reporter API Reporting in the Console
Universal Reporter is designed to allow the complete customization of the reports you send to meet the needs of any recipients. It uses PowerShell and Excel to deliver report templates that may be easily modified to add Webroot and if needed other data sources to the same report.
This release brings the following new features and capabilities:
Full customization of report colors, charts and text.
Co-branding with your logo
Full control of the content including all messaging that your Client(s) are interested in
Automatic reports sent from your email address Multiple email addresses per Client
Ability to add non-Webroot content by advanced users who have PowerShell or API skills
Ability to use and share templates between Clients
Ability to combine Endpoint, DNS, Security Awareness Training and other content into one report
Simple set up and maintenance of monthly reports for Clients
Ability to run multiple instances of the tool by anyone
Easy template creation process as users demand different types of reports
A link to more resources on how to get the most out of Universal Reporter is below.
More information about API access and our Unity API may be found

here

.
More details on Universal Reporter and reporting templates is

here

.
To Close
For many of our continuous minor releases, we do not issue Product Update Bulletins, however we do plan to start issuing a new monthly "What's New" update in the Business Community to keep you informed. In the meantime, there are many places where you can stay informed, or reach out to others for insightful advice and information.
Here are some useful resources: