New Console Overview
On April 27, Webroot will introduce the first version of a brand-new, cloud-based management console design based on extensive research conducted along with our managed service provider (MSP) and small and medium-sized business (SMB) customers.
Because we are moving from an old to a brand-new platform, we cannot provide any transitional stages that would allow us to grant early access. The new platform is designed to be more intuitive and even easier to use, so we anticipate those using the old console will find the transition straightforward.
There are two versions of this console:
A multi-tennant design specifically enhanced for the needs of the MSPs
A standard business console designed to be easy to use for SMBs
The capabilities and functions of these two consoles are functionally similar other than necessary design differences for managing multiple Clients versus managing a single business.
Why the change?
Our original console was developed more than ten years ago for the Webroot SecureAnywhere
Business Endpoint Protection solution. Since then many things have changed. We have added Webroot
Security Awareness Training and Webroot
DNS Protection to the console, and more additions are on the way. This move was necessary for us to be able to innovate more rapidly and to continue to provide best-of-breed technology for SMBs and MSPs. A new UI/UX and platform infrastructure was also needed to respond to an increasingly sophisticated IT security market.
Key console improvements:
A new look and feel featuring a cleaner, more contemporary design. It's responsive and intuitive enhancements were made based on customer research and now uses standardized iconography and terminology.
Improvements to system status, actionable remediation workflows, granular visibility, and user error prevention, by addressing known administrative pain points including:

Site-to-site navigation
Needs Attention actionable from Sites list
Delete Site workflow
Refined footer
Unsaved changes loss prevention

Faster UI/UX design changes and improvements
Quicker introduction of new features and capabilities now and in the future.
Webroot Security Awareness Training:
Console feature parity means that all improvements and developments made within the multi-tenant console are now available in the new console.
Distribution Lists and Granular Targeting offer support for creating distribution lists and targeting them with training from the new Webroot management console.
New features in this release
New Console UI/UX

The new UI/UX introduces a new look and feel with a cleaner, more contemporary design and a collapsible left-hand navigation. Moving the navigation makes the UI/UX more intuitive and allows us to more easily add additional cyber resilience solutions in 2021.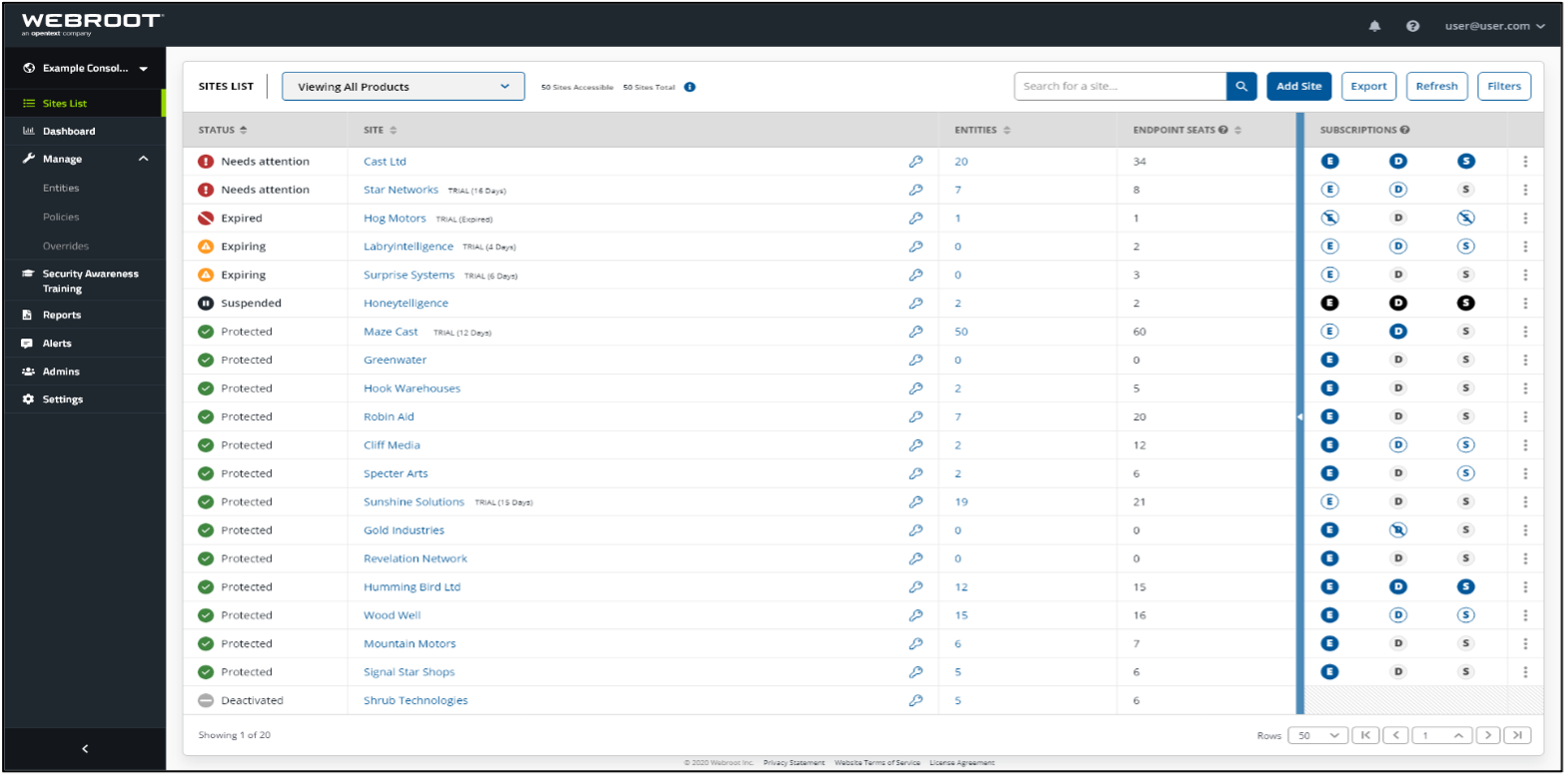 Needs Attention Simplification

The 'Needs Attention' now navigates straight to the the actionable list with a single click, improving the navigation to detected threats and enabling remediation actions in one place for improved efficiency.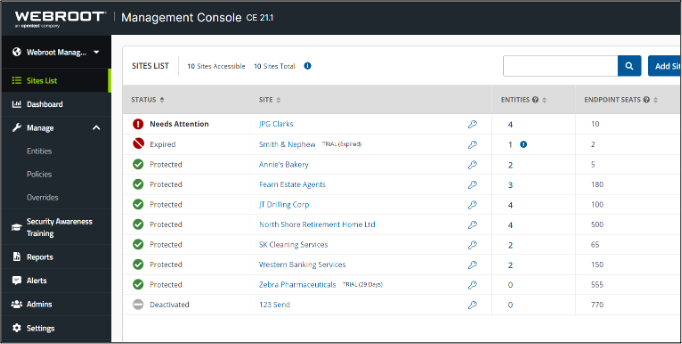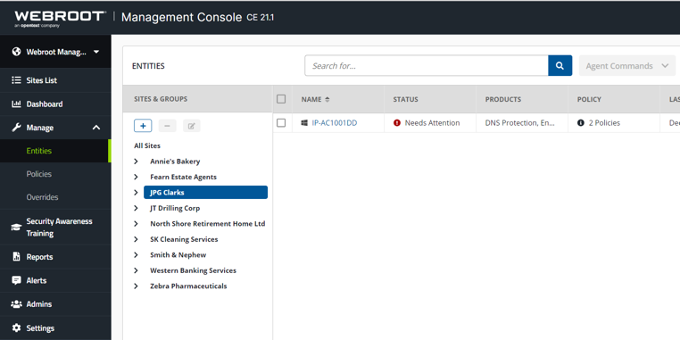 Site-to-Site Navigation

Site-to-site navigation is now available without returning to the Sites list page, removing the drilling in and out of the Sites page and enabling much faster lateral navigation between sites.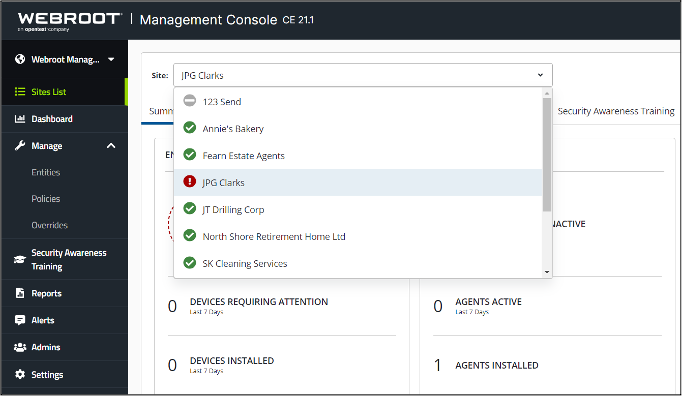 Unsaved Changes Enhancements

To counter not saving changes we have addes a Cancel or Save footer. If these actions are ignored or missed, an unsaved changes reminder prompts the administrator to complete them.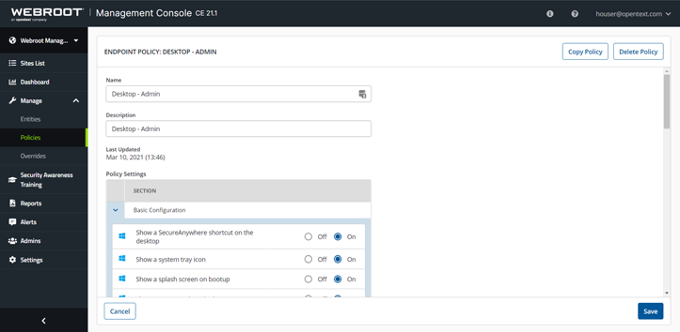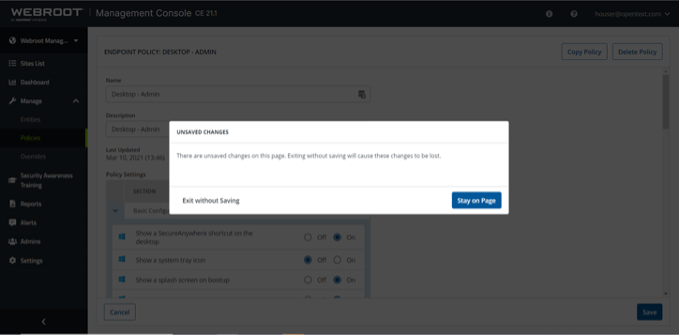 Adminstrator Status Enhancements

To improve visibility for administators, a new Admins page discplays account type, admin-to-admin navigation, site permissions, sorting and search. This reduces sub-navigation within the Admin list and other Admin-specific areas. It also provides easier management of site permissions through sorting by site permission type and search field.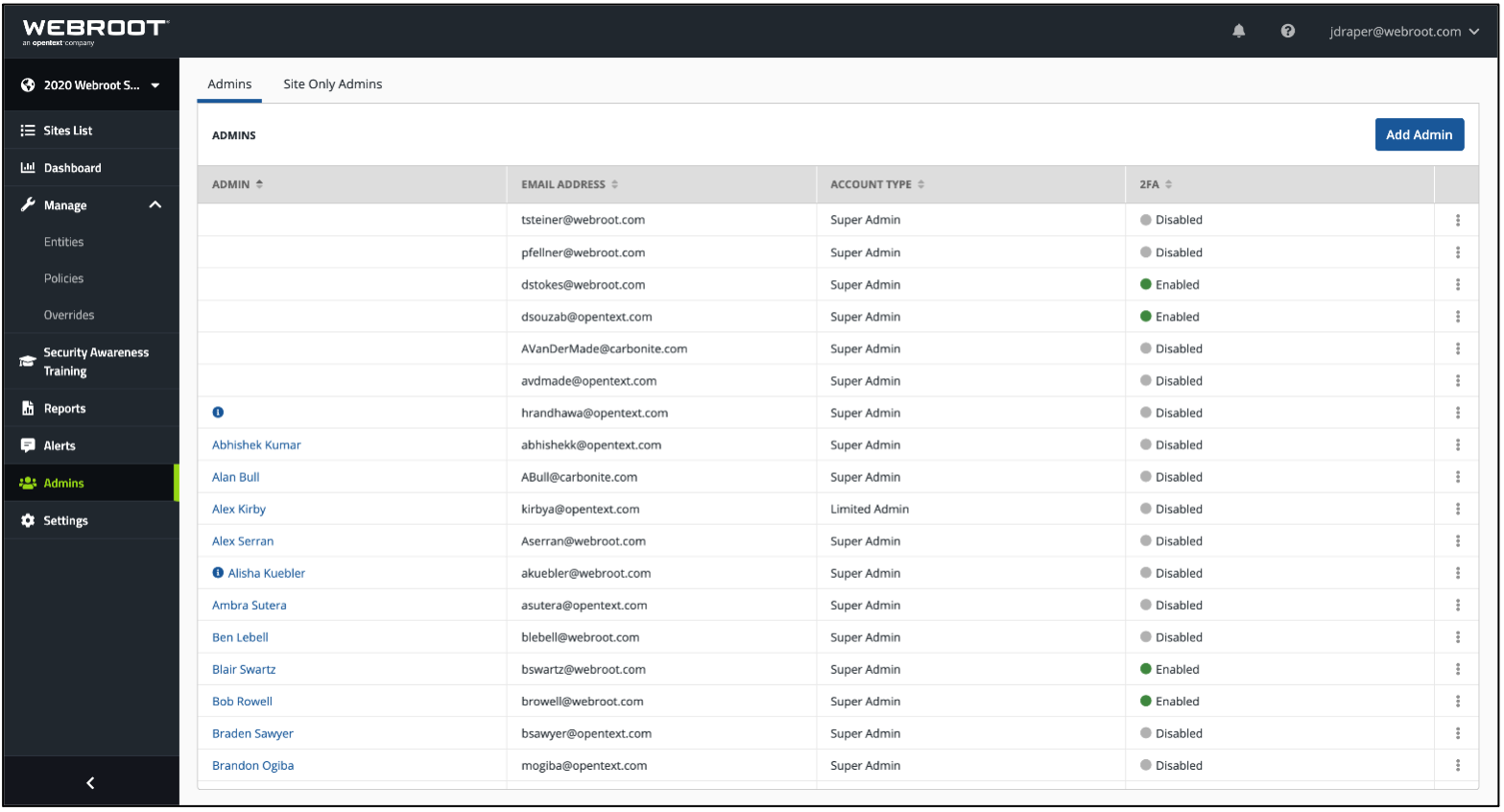 Deleting a Deactivated Site

Deleting a deactivated site no longer requires the involvement of Webroot Support. This action is now available in the console. However, it is crucial to note, that once a decactivated site is deleted it CAN NOT be restored once deleted.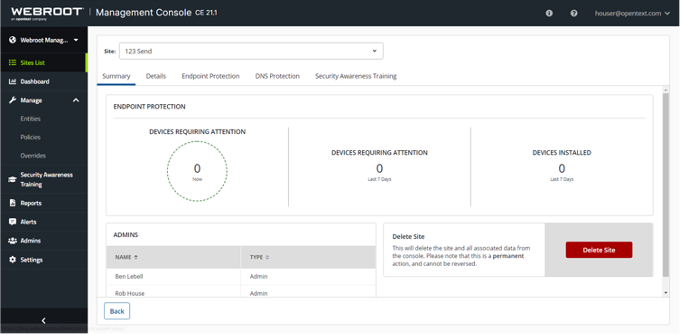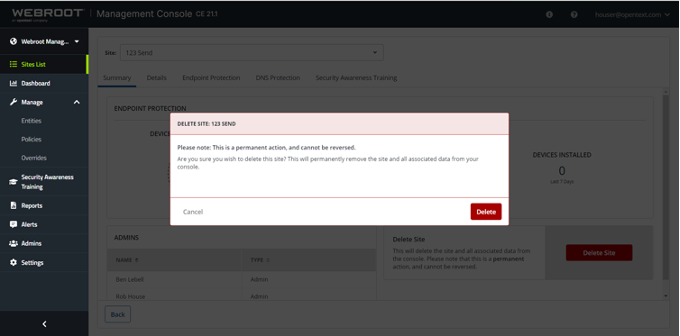 Security Awareness Training – Distribution Lists with Granular Targeting

Users now have the ability to easily create distribution lists and to target each with different or common training materials. This allows administrators to segment and more effectively administer the right training to the right person at the right time. MSPs can also do this from the multi-tenant console, saving time when managing training for multiple clients.