With the Galaxy S4, Samsung clinches its goal of global smartphone domination. The supercharged Android 4.2 Jelly Bean device may look like a toy compared with the stunning
HTC One
and the dapper
iPhone 5
. But taken together, its blazing quad-core processor, colorful 5-inch HD screen, sharp-shooting 13-megapixel camera, and mile-high stack of software extras make the Galaxy S4 the most powerful superphone anywhere in the world.
What does the Galaxy S4 have? A better question is: what
doesn't
it have? There's the 1080p screen, zippy processing speeds that are
ideal for gaming
, and an IR blaster that can control your TV. Then there's the parade of camera tricks that cram action shots into one scene, use both front and back cameras, and film a video in slow-mo. The GS4 can harness your eyeballs to pause video, and it can answer a phone call with the wave of your hand. Unlike the HTC One and the iPhone 5, it also piles on expandable storage space and a removable battery.  
Read
here
.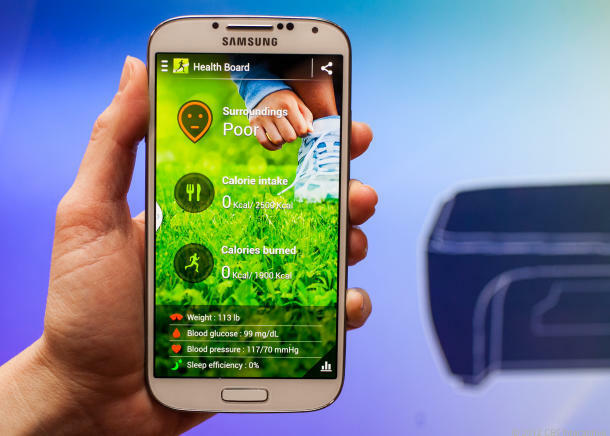 The S Health app tracks calories in and out, and can sync with compatible accessories like a fitness band and heart rate monitor.