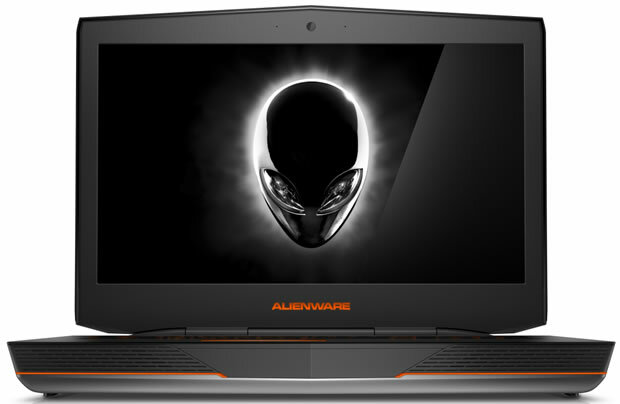 The new Alienware 18.4-inch high-powered laptop.
Dell has beefed up its Alienware series with three new laptops equipped with some seriously high-end specs.
Unveiled on Tuesday at the
E3
show in Los Angeles, the
Alienware 14, Alienware 17, and Alienware 18
are designed for hard-core gamers who need laptops packed with lots o' power.
Starting at $1,199, the
Alienware 14
offers a 14-inch screen (1,366x768 or 1,920x1,080 resolution), as much as 16GB of RAM, and up to a 512GB solid-state hard drive. Starting at $1,499, the
Alienware 17
is equipped with a 17.3-inch screen with a resolution as high as 1,920x1,080, up to 32GB of RAM, and a 1TB hard drive. And starting at $2,099, the
Alienware 18
sports an 18.4-inch screen with a 1,920x1,080 resolution, up to 32GB of RAM, and a hard drive as hefty as 1.5TB.
The 14-inch model can hold up to three hard drives, while its bigger brothers can store up to four drives. The Alienware 17 also offers a 3D screen as an option, while the Alienware 18 includes a full HD display with a wide-angle viewing feature.
All three laptops are powered by Intel's fourth-generation Core i7 processor, include Nvidia GeForce 700 series graphics adapters, and can combine a solid-state drive with a conventional hard drive for large storage and faster performance. The latest Wi-Fi standard -- 802.11ac -- is part of the mix. And buyers can choose between
Windows 7
and
Windows 8
.
Dell is also touting the design and durability of the laptops, highlighting their anodized aluminum shells and magnesium alloy bodies. More then 60 percent of their core mechanical parts are made of metal. The keyboard is also secured by a reinforced plate to allow for more solid typing.
For gamers who prefer to play on a desktop, Dell also recently enhanced its
Alienware X51
. The desktop can now be outfitted with an Intel fourth-generation Core i5 or i7 chip, an Nvidia GeForce GTX 670 graphics adapter, and a 1TB hard drive and 256GB solid-state drive combo.
Source :
Cnet
.