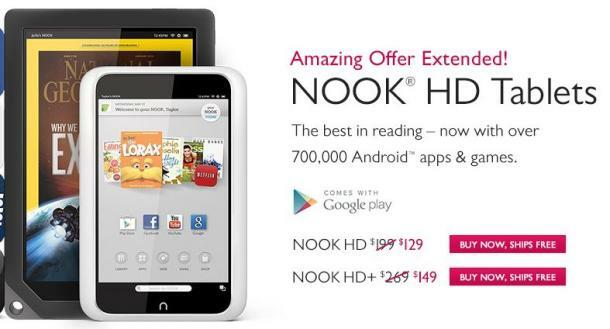 Now that Barnes & Noble is getting out of the color tablet business, these fire-sale prices could drop even lower.
I suppose the writing was on the tablet. Back in May, ostensibly in honor of Mother's Day, Barnes & Noble whipped out
some pretty hefty discounts on its Nook HD and Nook HD+
.
Then, earlier this month,
the cuts went even deeper for Father's Day
, with the 7-inch and 8.9-inch slates selling for $129 and $149, respectively. But even after the holiday came and went, the discounted prices remained -- and now we know why:
B&N is getting out of the color-tablet business
.
Bummer. The company produced good hardware from the get-go, and although this was probably the inevitable outcome of competition from the likes of Amazon, Apple, and Google, I'll miss the Nooks' sleek designs, high-def displays, and expansion-friendly microSD slots (a feature that has so far eluded each of the aforementioned competitors). R.I.P., color Nooks.
Of course, bargain hunters are now left with the inevitable question, Does it still make sense to buy a Nook HD? I'm not going to beat around the bush with this one: hell, yes, it makes sense!
In case you missed those numbers up top, the 7-inch Nook HD is currently priced at $129; the 8.9-inch Nook HD+, at $149. Amazon's
Kindle Fire HD
runs $199, while the
Fire HD 8.9
will set you back $269. (Which is the better 7-inch model? Look no further than
CNET's Nook HD vs. Kindle Fire HD Prizefight
. Spoiler: The Nook takes it.)
Read here.