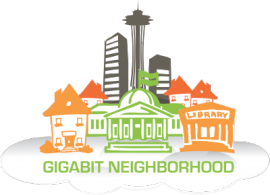 While setting up gigabit infrastructure can be prohibitively expensive for many local communities, it appears that the cost users will have to pay for Gigabit Squared's high-speed Internet in Seattle won't be off the charts.
Gigabit Squared
announced
the pricing for its local fiber network in the Seattle area on Monday -- and, the monthly cost is actually cheaper than what people pay for Comcast broadband.
The fastest level of service from Gigabit Squared will cost $80 per month, which includes 1000 Mbps download and 1000 Mbps upload. The next level is $45 per month with 100 Mbps download and 100 Mbps upload; the installation fee is waived in both of these plans if users sign a one-year contract.
The cheapest plan is free for the first 60 months for 5 Mbps download and 1 Mbps upload and $10 per month after the 60 months for 10 Mbps download and 10 Mbps upload -- however, a $350 installation fee is required.
According to the
Seattle Times
, Comcast charges about $105 per month for 105 Mbps, which is its fastest residential service in the area.
Gigabit Squared has partnered with the University of Washington for its Seattle project; the company is focusing on the university neighborhood, along with First Hill, Capitol Hill, and Central Area of Seattle. The company says that its service will be 50 to 1,000 times faster than cable modem or DSL services.
"We are excited about the limitless possibilities our network can bring to the residents located in these areas and are confident that the affordability and high speed performance of our fiber network will be well received," Gigabit Squared president Mark Ansbour said in a
statement
Monday. "We will be providing our customers with significantly greater speed and accessibility than what's out there today for about the same price... a true value."
Building new infrastructure for
high-speed fiber networks is expensive
. Governments don't have the cash and so investors have to be enticed to help build the networks. There are things local lawmakers can do to draw in various providers, such as streamlining construction inspections.
Google has worked with lawmakers
in this way for its high-speed fiber service in Kansas City. As far as cost, Google offers only two tiers of residential service: a 1 Gbps service for $70 a month and a 5 Mbps service that is free with a $300 fiber installation fee that can be paid for over two years.
Gigabit Squared will be signing up residents interested in the service starting next month. The high-speed network should be up and running by 2014 and then will most likely expand to other Seattle neighborhoods, according to Gigabit Squared.
Source : Cnet