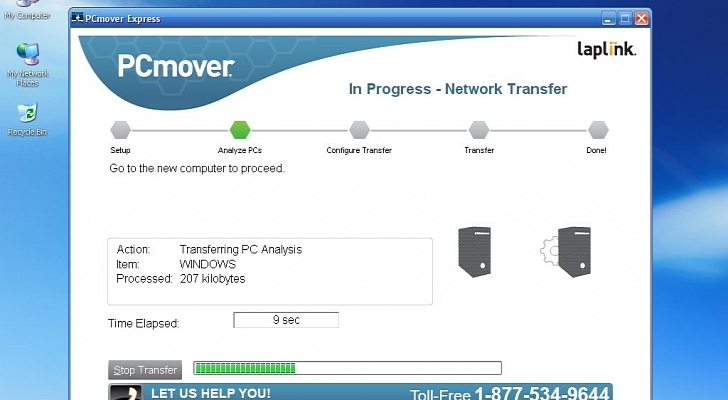 If you're still running Windows XP and you're planning to move to a newer OS, but you don't have the time to transfer all your data, Microsoft got you covered.
Redmond today launched a brand new migration application that's available free of charge for Windows XP users, just to make sure that everyone is moving to a newer OS version as soon as possible.
Developed in collaboration with Laplink, the so-called PCmover Express for Windows XP comes with support for Windows 7, Windows 8, and Windows 8.1 and can transfer basically everything, including files, music, videos, email and user profiles from an old PC running Windows XP to a newer one powered by any of the aforementioned OS versions.
"This tool will copy your files, music, videos, email and user profiles and settings from your old PC to your new device, transferring across your home or work network, and even enables Windows XP users to customize exactly what they want to bring over to their new device," Microsoft
explained
.
The application will be released for download sometime this week, the company added, and will be initially available in English. Several languages, including French, German, Italian, Japanese and Spanish will be added in March. Korean, Chinese, Russian and Brazilian Portuguese will also be added soon after that.
"But if someone doesn't want to wait for the tool to be released in their local language, they can access Laplink's tool in other languages as well via Microsoft's Download Center," Microsoft also mentioned.
At the same time, the software giant and Laplink are also offering a premium solution called PCmover Professional that can move applications running on Windows XP to a newer computer with Windows 7, Windows 8, or Windows 8.1.
"For Windows XP users wanting to transfer applications from their old computer, Laplink is also making available its software that migrates apps called PCmover Professional at a special price," it said.
Of course, there's no doubt that this new tool comes in handy to many users, especially to large companies that are still in the middle of the Windows XP transition to another OS version.
As far as end users are concerned, 29 percent of the users are still running it right now, which means that not everyone will be ready for the retirement taking place on April 8, 2014. Microsoft, on the other hand, is very optimistic and hopes to move the majority of users in time for retirement.
Source