Is this the office of the future? It may look like a prop from the latest Star Trek movie but they it is in fact a state-of-the-art home-office work station.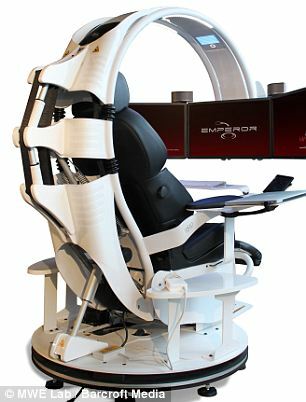 Office of the future: Right now this home office from MWE Labs will set you back £30,000 but Microsoft has already started using them so one day our offices may be full of them
But it doesn't come cheap and at £30,000 costs more than the average brand new BMW.
The home office's manufacturer claims the Emperor 200 is the most advanced home office and comes equipped with a touchscreen control centre, three 27-in LED screens and air-filtering system to control heat.
The office comes equipped with a touchscreen for the left-hand, mouse pad for the right and three adjustable screens to easily reach eye-level.
IDesigners, MWE Lab, based in Canada, describe it as the 'ultimate computer workstation' and say clients have included everyone from Microsoft programmers to dedicated gamers and even the US Marine Corps.
The adjustable aluminium frame houses an Italian leather chair which allows you to swivel or work while lying on your back, meaning the days of suffering lower back pain from hours sitting hunched over your desk my soon be over.
More frugal investors looking for something within the price range of a family car could consider the Emperor 200's sister products.
Read
here
.