Hello Community! I wanted to share
Kelvin
's latest Weekly Threat article with you. (
If you missed it, we did this
last week too
.
) I find these helpful and hope that you do too.
If you're finding these helpful, let us know in the comments below. We want to hear from you!


Ransomware Magic Solutions Not So Magic
Great read
on how businesses offering to "decrypt data" really were just great hagglers to ransomware criminals.
"As ransomware attacks crippled businesses and law enforcement agencies, two U.S. data recovery firms claimed to offer an ethical way out. Instead, they typically paid the ransom and charged victims extra."
Over 10 Million Australians Breached
10.5 million Australians (or about 40% of the population)
were breached
in a single incident
this year. This is according to the Office of the Australian Data Information Commissioner(or OAIC)'s quarterly report. The mega-breach wasn't named due to protocol but some big suspects including the
Marriot breach
were floated as culprits. These was also a huge catalogue of other attack stats outlined in its report and none of them look too rosy for Aussie privacy.
GozNym Banking Trojan Network Taken Down
It seems no-one is above click-bait these days. 2 days ago Europol put out a the kind of teaser you'd associate with Game of Thrones and not the European Union's Law Enforcement Agency.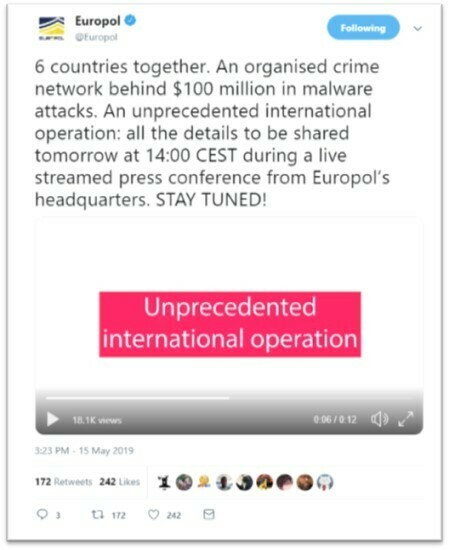 Stay Tuned! Euro-teaser
on Twitter
As promised though the news was big. Hot on the heels of two Darkweb marketplace busts this month, Europol have announced more seizures. GozNym is a cybercriminal network that was built around infecting machines with banking trojans and managed to steal about $100 million dollars. As we mentioned last week these takedowns and cases can take time to process. The network's heyday was in 2015 but justice is finally catching up to its organizers. As of now 10 (mostly European and Russian) individuals have been
issued US indictments
.
Huawei in the Bad Books
Huawei are a huge firm. Their end-of-year report for 2018 put profits at over $100 billion. It hasn't been all plain sailing recently though. In March Microsoft
found back-doors
on Huawei laptops and the company has been involved in a fight for it's reputation as intelligence agencies in the
US and UK in particular
accused the company of acting as a
Chinese state agent
.
More bad news for the company this week as the US president
announced an incoming ban
on American telecommunications firms from installing foreign-made equipment that could pose a threat to national security.
As my rough looking table here shows, the information you have and trade can be stolen at many different levels if a government or group compromises them.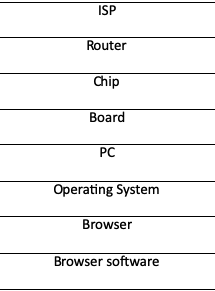 The US and a lot of other countries have been guilty of similar supply-side tactics in the past and maybe the new US focus of protectionism has something to do with the announcement as well as the credible accusations of Chinese spying.


Political Interference on Facebook
Facebook just took down 265 pages run by an Israeli company, Archimedes Group. The group draws a lot of parallels to Cambridge Analytica but focussed mostly on spreading propaganda in the middle east and Africa
Fact checker site Snopes have finished a large investigation into "Radical Evangelicals Spread[ing] Anti-Islamic Vitriol on Facebook".
Forbes Magazine Hit By Magecart
The Magecart criminals are making a lot of money these days. Magecart is very similar to ATM card skimmers except it works by stealing card details from websites. In place of a magnetic card skimmer it uses injected code to skim card details from customers looking to make purchases online. The coding involved
is really clever
and the beauty of this attack is that it's hard for the seller or the buyer to figure out where the theft has happened.
Forbes is just the latest
in a long line of victims, big and small, affected by this malware. The financial news giant had to close its site for maintenance temporarily until it dealt with the threat.
Baltimore Still Reeling
An update on the huge May 7th
ransomware attack on Baltimore City
in the U.S. Recovering from targeted attacks like these is always a nightmare and 10 days later the cities varied IT infrastructure is still a long way off normal operation.