@FredFunk is back with another weekly threat update for your reading pleasure.


US Ransomware Outbreak Addendum…
Looks like state security agency CISA is finally addressing the current US ransomware outbreak. Yesterday it circulated information linking to
resource pages
to help government, school and other organizations cope.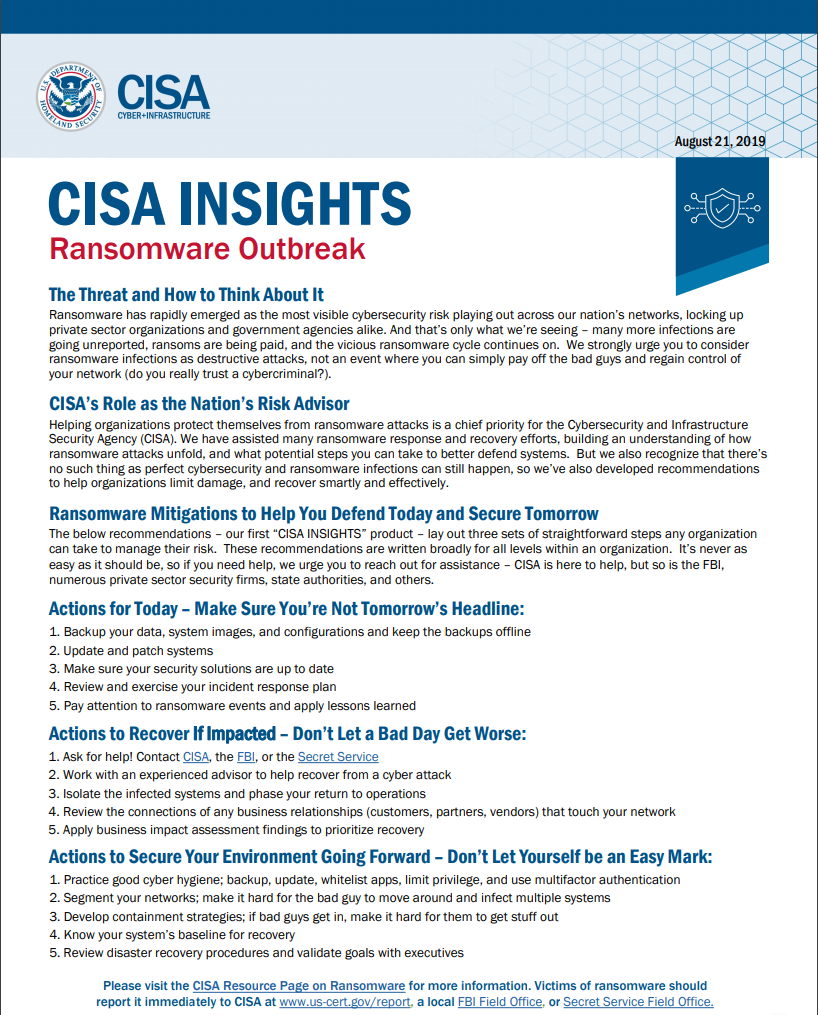 Ransomware
'Coordinated Ransomware Attack' in Texas Hits 23 Local Governments
"Texas is currently fighting an unprecedented wave of ransomware attacks that has targeted local government entities in the state, with at least 23 impacted by the attacks."
Amazingly, all of the attacks have been blamed on
a single threat actor
and they started on the 16th of August.
These types of ransomware attacks on local Texan governments have also been seen in other states of the country, especially in the south, and are part of a growing national epidemic.
Florida
and Louisiana school and government bodies were hammered by ransomware attacks in July with Louisiana
declaring a state emergency
.
Eurofins Scientific: Ransomware Attack Leads to Backlog of 20,000 Forensic Samples
A forensic services provider with the UK government was hit by a targeted and "sophisticated" ransomware attack in June
it has emerged
. The company deals with more than 70,000 criminal cases in the UK each year and carries out "DNA testing, toxicology analysis, firearms testing and computer forensics for police forces across the UK."
For a time, the police suspended cooperation with the NPCC and the attacks led to a backlog of more than 20,000 samples which in-turn delayed court cases. The company paid the ransom.
Cryptocurrency
IRS Begins Tax Clampdown on Unreported Cryptocurrency Profits
Cryptocurrency is attractive for a lot of reasons. One huge attraction of cryptocurrency from day one has been its anonymity. No-one on earth can see or touch what you have and what you own. That was the theory anyway but these days the wild west
is being tamed
with tax notices being issued over undeclared earnings.
The rampant tax evasion and criminal commerce associated with the new currencies has always concerned governments The tightening of their grip on the cryptoworld has been slow, steady and globally coordinated:
"The IRS won a landmark case against Coinbase in 2017 which forced the cryptocurrency exchange to hand over the records of 14,000 customers that purchased, sold, or obtained over $20,000 in cryptocurrency between 2013 and 2015.
In July, The Group of Twenty (G20) formally backed a new set of cryptocurrency guidelines which could see similar tax chasing occur worldwide.
The international forum, including Europe, the US, and China, announced its support for a new set of Financial Action Task Force (FATF) guidelines which are designed to make money laundering through cryptocurrency more difficult. The changes would also require exchanges to hold more information on their customers for use by regulators and law enforcement when deemed necessary."

More on
ZDnet
Politics & Government
Irish Watchdog Finds Services Card Breached Data Protection Laws
Ireland's Department of Employment Affairs and Social protection
is in trouble
with the country's Data Protection Commission (DPC). Public service cards were made compulsory by the state department but now data held on more than three million card holders must be deleted. The DPC were unhappy that the original concept for the cards was not kept to.
"Whereas the scheme was conceived as one that would make it easier to access (and deliver) public services, with chip-and-pin type cards being used for actual card-based transactions, the true position is that no public sector body has invested in the technology capable of reading the chip that contains the encrypted elements of the Public Sector Identity dataset."
Cancer research organizations are now the focus of Chinese hacking groups
Research
from Fireye has attributed recent information stealing attacks on cancer research institutes to state sponsored Chinese APTs. The value of cancer research is plain to see from a health perspective, but researchers aren't overlooking its financial value as a motive for its theft.
More from
ZDNet