Every year at BlackHat USA we debut the mid-year update to our yearly flagship Threat Report. Our mid-year update provides contextual insights from the 2022 BrightCloud® Threat Report. These updates highlight the most recent trends in malware and phishing within the first six months of 2022.
If you haven't already, check out our 2022 BrightCloud Threat Report
The Manufacturing vertical continues to experience the highest above-average infection rate, rising just over 12% since 2021 to 66.5%. The Information and Public Administration verticals also saw spikes in above-average infection rates, 47.4% and 42.7%, respectively.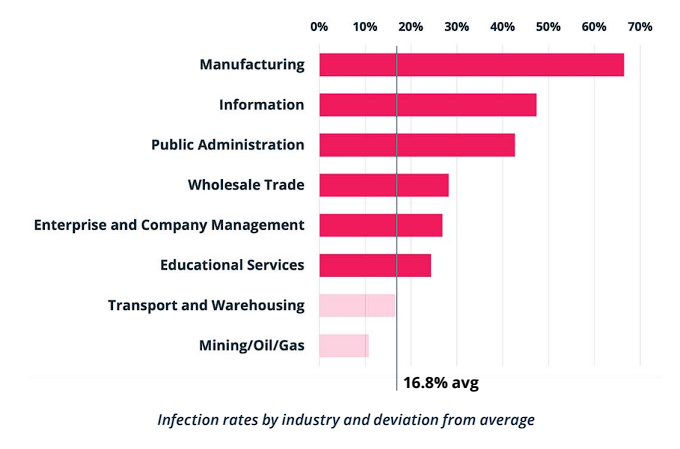 Windows 11 adoption remains stagnant, only rising 4% for businesses and 15% for consumers within the first nine months of the release. Since the adoption of Windows 11 has been slow, these results highlight the importance of incorporating a layered security approach that includes DNS protection which helps reduce infection rates.
Protective DNS services are essential components of today's cyber resilience strategies because its protection not only offers added privacy, but also acts as a robust defense against malware. In fact, there are 31% fewer infections when endpoint and DNS protection are combined.

Phishing is moving in one direction – up. Phishing activity has been exceptionally high in 2022. Nearly 20% of all phishing activity occurred in April. This is likely the result of tax season when cybercriminals prey on unsuspecting users looking for tax refunds. We also saw a 10x increase in phishing during the fist few months of this year which had previously been a "hacker holiday" period where cybercriminals had taken their vacation after the end of year holiday season where phishing attacks had been at their highest. Only time will tell if this trend will continue. 
The most impersonated brands continue to be a favorite target by hackers. This means we need to become more vigilant and aware of what we click on, especially with these high-profile tech brands. There is just too much at risk and therefore a high return on investment for criminals. This means that business leaders need to prioritize ongoing security awareness training and phishing simulations with employees to ensure all users know how to spot and avoid becoming a victim of a phishing attack
The 2022 BrightCloud® Threat Report mid-year update emphasizes the need to increase cyber resilience using trustworthy and dependable security solutions like antivirus, DNS protection, and backup and recovery to help protect what matters most.
To learn more, go to: www.brightcloud.com
Check out the full infographic attached below and our blog on this topic as well