Question
My account has not yet been confirmed, and I need to confirm it.
Answer
When you create your online account, you are sent an email from Webroot titled "Webroot Console Confirmation." You will need to click the link in this email to finish the creation of your online management account. Without doing this, you cannot access online console nor use features such as Password Management and Backup & Sync.
When you click on the link, it will take you to a page asking for two characters of your
Personal Security Code
.

Your security code is a code you created when you set up your account. It is not the same as your keycode. Your security code is comprised of a minimum of 6 letters or numbers and is different from your password and security question. You would have created your security code as well as a password and security answer on the registration page below.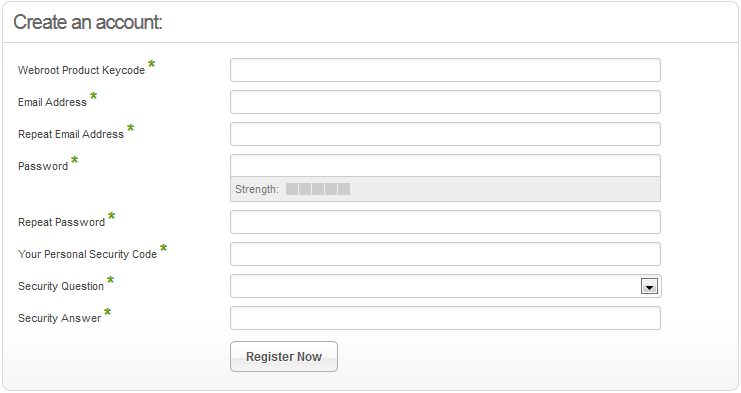 We would request that you first try to remember what you had created. Also, keep in mind the credentials you created are case sensitive. If you are able to recall your credentials, click the link in your email to finish setting up your account.
If you're unable to remember the security code or it isn't working for you, we would like to work with you over the phone to help you access your account and reset your login credentials as necessary. Call us at 1-866-612-4227 during normal business hours. Webroot's Customer Support business hours are 7:00 AM to 6:00 PM, MST, Monday through Friday.
For international contact information,
click here
. When the
Contact Us
page opens, click the tab for the country that works best for you.