iMac 2001
macOS Sierra Version 10.12.3 (16D32)
I've installed DWP Mac 1.0.057 Installer on our student iMacs in our lab and for some reason the DWP is just disapearing and the proxy is being removed from the browsers??
On the initial install it displays the DWP icon on the top menu bar. I apply the proxy setting to each of the browsers and then "HIDE" the button.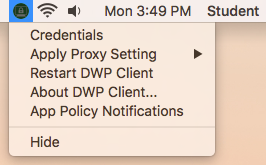 However, for some reason the proxy settings are not "sticking"?? After a few days of use the browers are reverting to their previous non-proxy settings??
Is there a way to verify that the DWP starts every time the iMac starts? (If it has updates and restarts.)
** Also, is there some way to confirm the DWP is running once I "HIDE" the button? **
HELP!
Thanks,
JB