If you are a small business, you will soon be able to get a version of Windows that has previously been available mostly for larger companies. Today, Microsoft has confirmed that the Windows Enterprise Edition will be sold as a stand alone product for anyone to purchase starting on March 1st.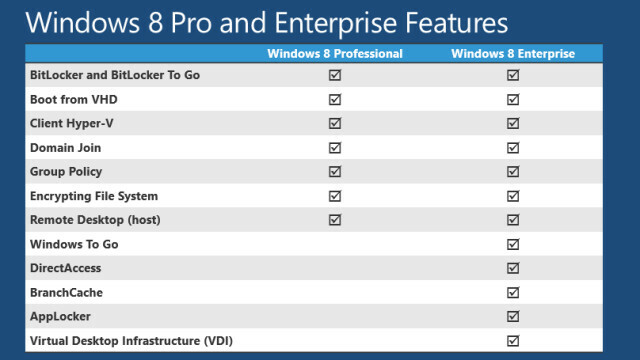 Previously, access to the Enterprise SKU was only possible for small businesses if they signed up to use Windows Intune, or for middle and large companies via a volume license deal with a Software Assurance subscription. However, it appears that Microsoft has received requests from many customers to gain access to the Enterprise version without having to sign up for any kind of service.
According to
a statement sent to ZDNet
by a Microsoft spokesperson: "Windows Enterprise will be available as a standalone upgrade SKU in the Open and Select/Select Plus programs beginning March 1, 2014." This change does not affect customers who are renewing their previous Software Assurance licences.
As you can see from the chart above, the differences between the Windows 8 Pro and Windows 8 Enterprise version are mostly to add some security and mobility features, including Windows To Go, which allows users to take an image of their Windows 8 desktop and put in on a Flash drive so they can plug in and boot it up to use on any Windows PC. Microsoft has a
90 day trial version of Windows 8.1 Enterprise
available for anyone to download and access.
Source