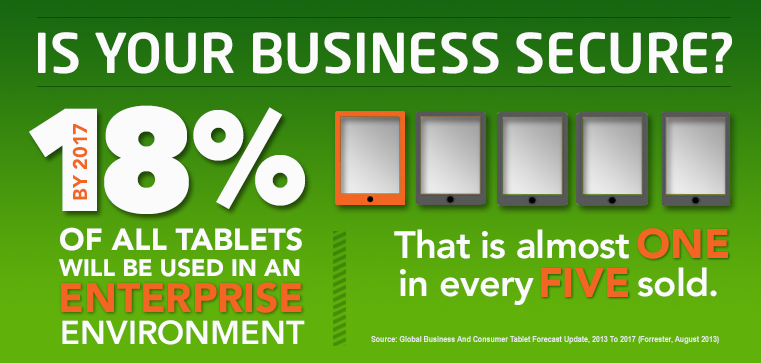 Yesterday, Forrester released their latest studies and predictions on the growing tablet market in their report "Global Business And Consumer Tablet Forecast Update, 2013 To 2017 (Purchase the report here for
$499
). In the report, the full market was looked at, including the enterprise environment, which lead to some very interesting statistics and predictions.
By the end of 2013, there will be a forecasted 327 million tablets sold in the world, with the iPad leading the sale with 140 million. By 2017, that base number is predicted to be at 905 million, with 60% of North American online consumers will own. Of those 905 million forcasted units, 18%, or 162 million devices, will be in the enterprise market.
The most interesting aspect of this report is the highlighting of how many of these tablets will be involved in a BYOD environment, meaning that not every device will be the same, and that most of them will be owned solely by the user/employee and not the company. As this type of environment continues to grow in the enterprise sector, it brings to question the idea of security and protection. Are these businesses capable of handling the growth on their networks while also ensuring that their information and access is secure? Are these companies looking towards the future, towards the changing environment, and ensuring their protection today can be scaled up to these numbers?
A look ahead, there are many unanswered questions and concerns, but one thing is clear; with the changing market and workplace acceptance of mobile devices, a scalable security solution needs to be a bigger concern for many companies.
Since then, the tablet market has grown into a mass market phenomenon. But its potential still remains unrealized: Forrester forecasts that tablets will reach an installed base of 905 million users by 2017. This growth — up from just 15 million users in 2010 — will catapult the tablet from merely a popular mass-market device to a highly visible mainstay device among consumers and businesses in developed nations. This report offers infrastructure and operations (I&O) professionals guidance on the path that consumers, workers, and business buyers will take to acquire and use these popular devices.Source:
http://www.forrester.com/Global+Business+And+Consumer+Tablet+Forecast+Update+2013+To+2017/fulltext/-/E-RES97182?docid=97182
Read more about the report on these links: