The following pop-up appears on Windows 10 several times a day: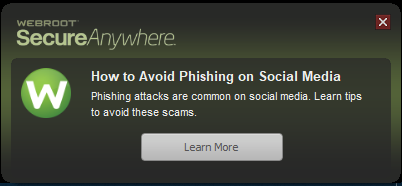 How do I make it stop? If I can't stop these annopying pop-ups without installing your stupid browser extensions then I will have to uninstall the software completely. This is unacceptable.
Best answer by LLiddell 18 June 2018, 17:00
Hey everyone, I got to the bottom of this and it was in fact an educational campaign. I have seen that this has ended effective today, and because of the feedback we have received here, it has been noted to not take this course of action again in the future. So thank you for your feedback, we hear you loud and clear, and it will no longer be part of Webroot.
View original