How to Install and Activate Webroot for Android
Go to the Google Play Store and install
Webroot Mobile Security
Mobile Security
Webroot Inc.
Offers in-app purchases
FREE AntiVirus, internet security, and identity protection
Webroot SecureAnywhere® Mobile keeps you secure when browsing, shopping, and banking on your Android™ device. It locates and locks lost or stolen devices, and automatically scans your apps for threats and malicious behavior.
MOBILE SECURITY
? Automatically scans apps for malware and viruses
? Set it and forget it – continuous protection without battery drain, interruptions or slowdowns
? Real-time anti-phishing identifies and blocks fake websites that trick you into entering your personal information
? Warns you about infected websites before you visit them
? Blocks unwanted calls and text messages
? Social network protection including Facebook and Twitter
LOST DEVICE PROTECTION
? Lock – Remotely lock your device if lost or stolen
? Locate – See your device's GPS location
? Scream – Sound an alert to help you find your device nearby
*3G, 4G, or wifi connection required for lost device features
Click OPEN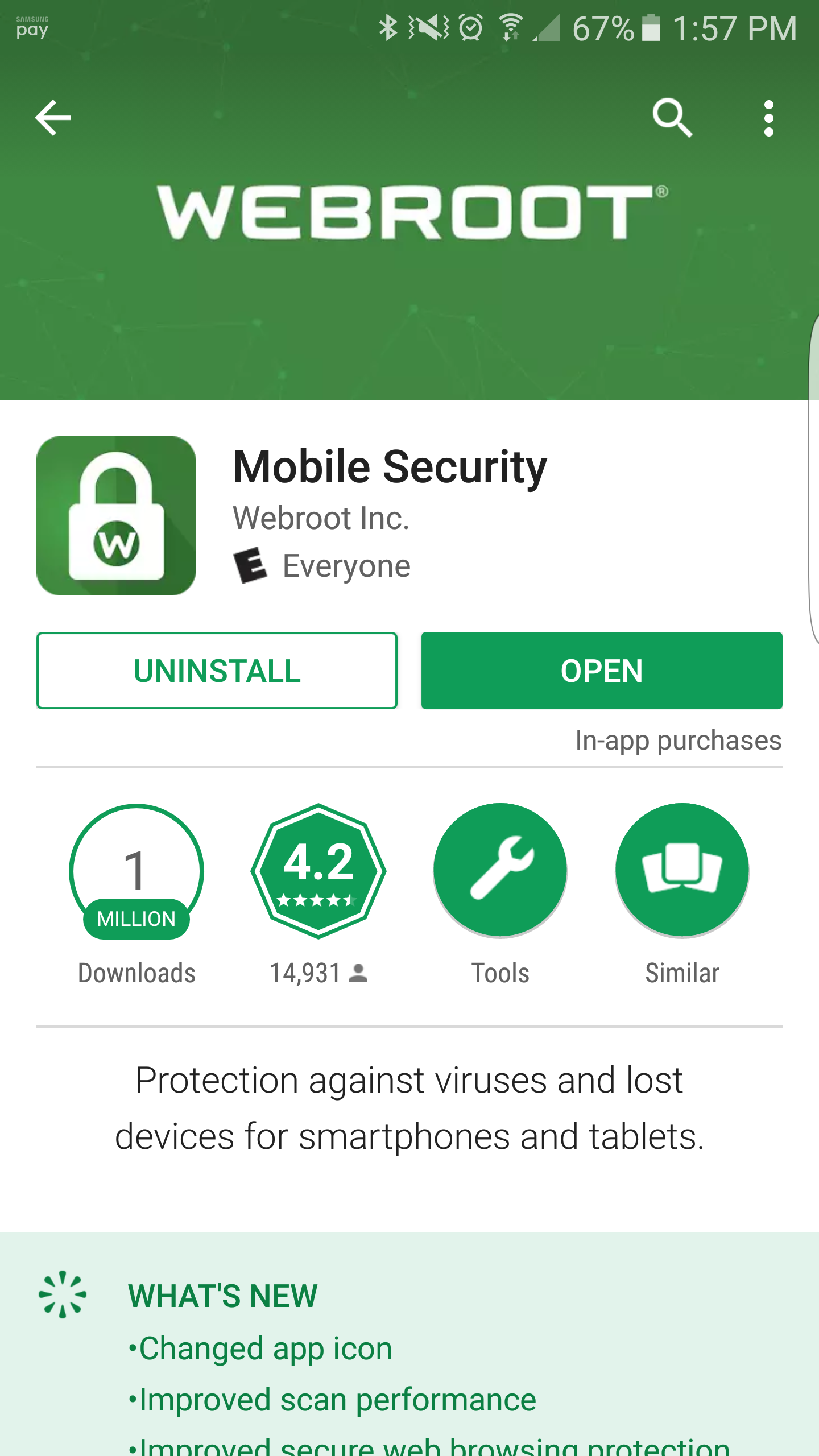 Scan for Threats Now
https://lh4.ggpht.com/W_HALFSBjOTg9z_6MBk5YUA7N7Fv8qsAi0EKRXauC45bqL0w69RBNexWXM87cGx4vw=h310
In the upper right-hand corner where the 3 dots are click on this.
A Screen Opens at the Bottom with
General Settings/ Change Password/
Register/
About/Uninstall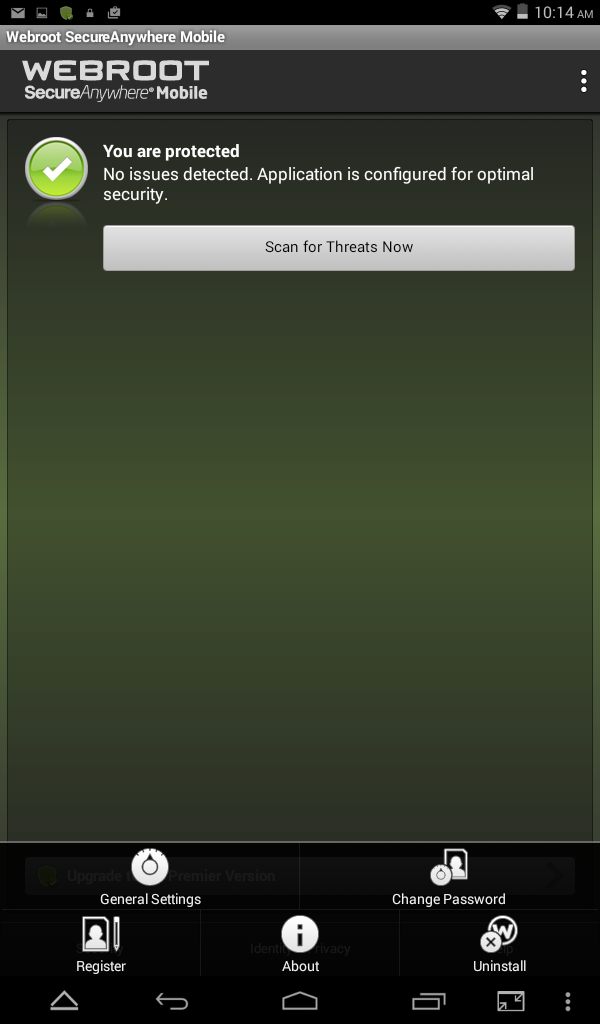 On the left lower screen you will see Register
Click on Register. You will see your email and Keycode.
Please write down your 20 digit keycode.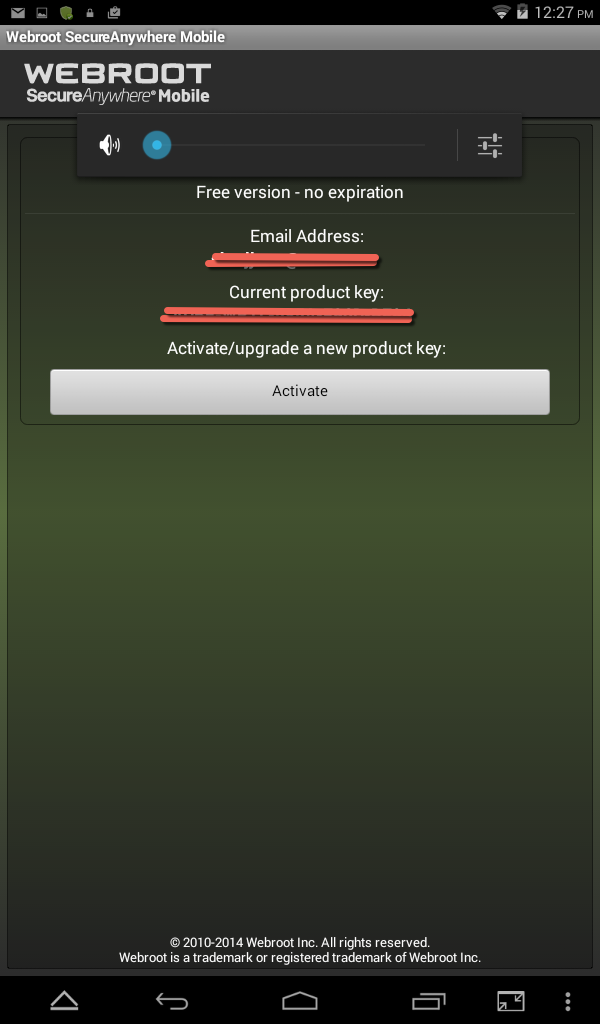 Insert your 20 digit keycode example (BDAFWRTS574AF86DBA92) without the hyphens. They will automatically insert.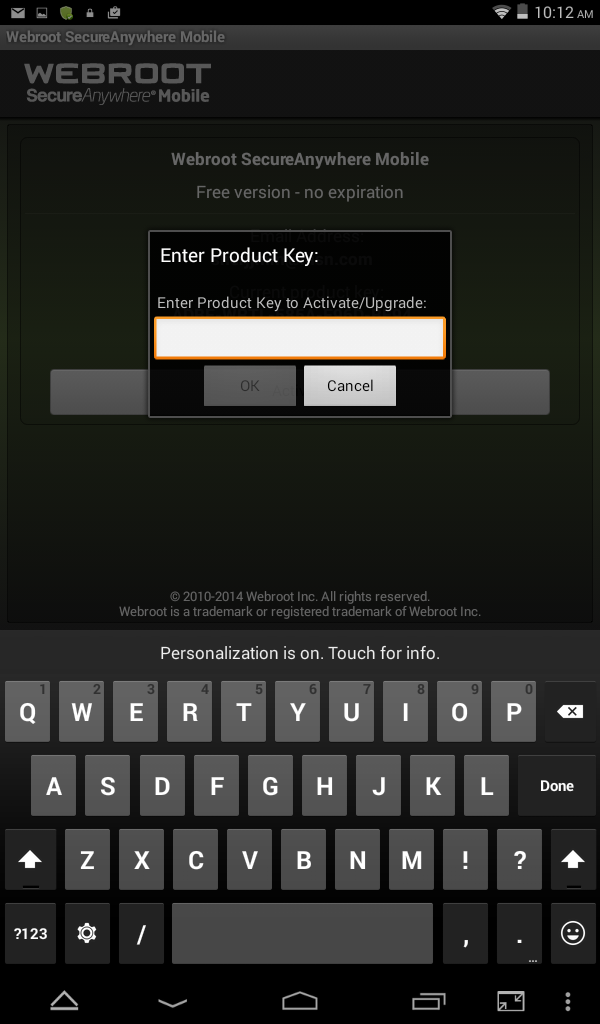 Wait for Activation.
To create an account:
Open your browser to the Webroot online management account website. You see the Login and Create an Account Go here and use the function to create a new Account.
Set this up with your same email amd Password that you used for installing the free version and then create a security code.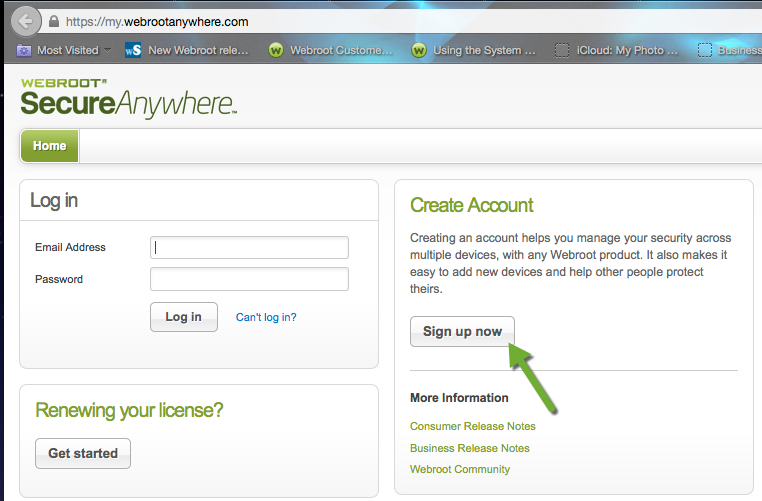 Note
: for "
Internet Security Plus
" and "
Complete
" users, activating by inputting your keycode will upgrade your mobile version from Free to the Webroot Version that you have paid for such as Complete (
Complete
users) or (
Internet Security Plus
users) and will also count as one of the "Seats" of your license.
• More info on SecureAnywhere Mobile:
https://www.webroot.com/us/en/home/products/mobile
• Troubleshoot issues with installation or logging in:
http://www5.nohold.net/Webroot/Loginr.aspx?pid=11&login=1&app=vw&solutionid=1925
• Need support?:
http://www.webroot.com/us/en/support/support-home