When I right click 'Open Anywhere Folder' from my system tray WSA icon, nothing happens. All the other features are working with a right click.
Does this have anything to do with my Backup and Sync still not functioning? Support is still working on that and said it "should" be resolved in a couple of weeks.
Best answer by shorTcircuiT 1 July 2014, 15:19
Hello Poppi, welcome to the Webroot Community!
To use access the Anywhere folder on a Mobile device, you need to use the Backup&Sync app on your Android device.


Go to you Apps menu

Locate and open the Backup&Sync app

You should be prompted to log in. Use the same username and password that you use to access that User on the Online Console.

Once logged in, click the Remote Containers bar

Click the Anywhere folder
You should now be able to access the material you have saved in the Anywhere folder on your computer. Note that if you open a file, it will download onto the tablet and then open, so you may want to delete the file from the tablet when you are done.
For future reference, to start a new topic simply to go the Forum you wish to post in, in this case Secure Anywhere Complete, and click the "New Message" botton at the upper left corner of the posts. Take a look below, the red arrow points to it.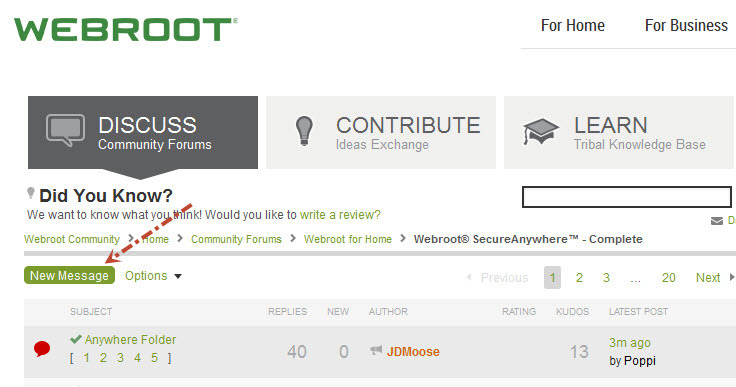 View original