Last year I complained about the BestBuy Webroot renewal process.
It goes pretty much like this:
Your Webroot security panel turns Yellow 30 days before the expiration. There is a link to renew. But even if you click it and enter your credit information it will make no difference in what will transpire. I know. I've been through this at least 5 or 6 times.
As your deadline approaches, you will start to get renewal notices...even though you've already clicked on the link and said you want to renew...and even if BestBuy has sent you an email saying that they will renew your subscription with the card they have on file.
During the last week you will start to get more urgent prompts warning you that your subscription is about to expire and renew now (even though you already said you wanted to.)
Finally your panel will turn red and it will say that it is expired.
If you call the Geek Squad, they will say that you are still protected. That there is a 30 day grace period. But your Webroot panel is red and it says EXPIRED! (So if, you are really protected when Webroot says you are not, then how do you know when to believe Webroot or not???)
Last year when I complained to Webroot tech support, they thought it had something to do with the fact that I have two separate subscriptions and there was some confusion. (I have a BestBuy subscription and a Webroot Only subscription.) But I don't believe that for a second. My Webroot only subscription has a green panel and all the shields say they are active.
But my BestBuy subscription looks like this...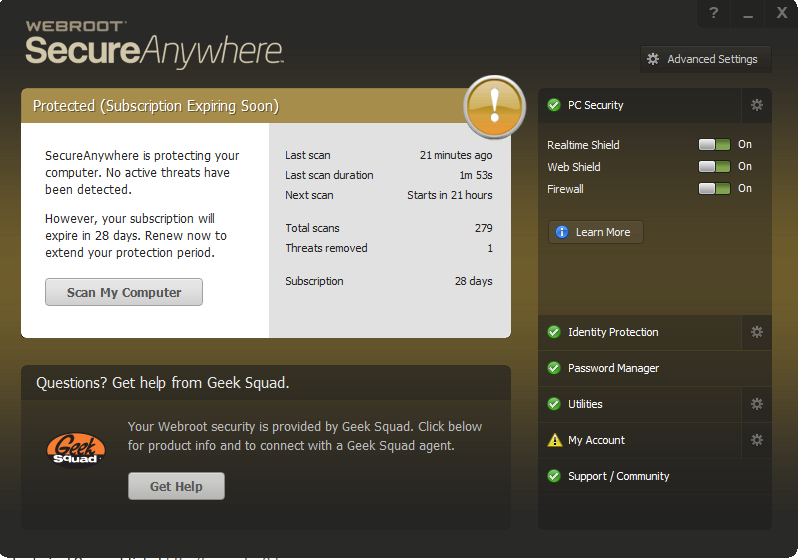 Meanwhile, I have received an email from the Geek Squad saying that
they will renew my subscription using the credit card they have on file on 04/29/16.
BestBuy waits until the day that your subscription expires and then charges your credit at mid-night of that day.
My question is....why can't they charge the credit card
now
they way Webroot does and just add the remaining days to the subscription?
I really should just call BestBuy up and cancel and my subscription. But another part of me wants to document what actually happens, so tech support can see it. So that's what I'm planning to do. When I start getting the alerts, I am going to post them here. And when my panel says that it is expired, I am going to capture that and post it here, too.
Already you should be able to see that what I am saying is true. My panel above says that it will expire in 28 days. That screen capture was taken about 3 days ago. And the email from Best Buy says that they won't charge my credit card until 4/29/16. That should be when my subscription has expired.
And I repeat I've been through this process 5 or 6 years in a row and I didn't even have Webroot only subscription during the first few years and it still happened the way I've described.