My boyfriend is having issues with Webroot taking up too much CPU usage while running a scan.

Hes had problems ever since he upgraded to Windows 10 from 7 on his HP laptop. This screenshot is him running a scan. Hes been complaining of poor computer preformance and notes that it only happens when he has webroot running and it happens a lot while webroot is idle and not scanning.

This what it looks like after he stopped a scan. He has to stop webroot from running at all to get any kind of computer preformance back.
Now me on the other hand, I still have not upgraded and I am using Windows 7 with no issues.
This is what Webroot looks for me while idle, always one the least amount of resources used out of all my programs
(I'm looking at you memory hog Chrome. I'm always at like 92% usage when I have more than 2 tabs open or if I have Facebook open.)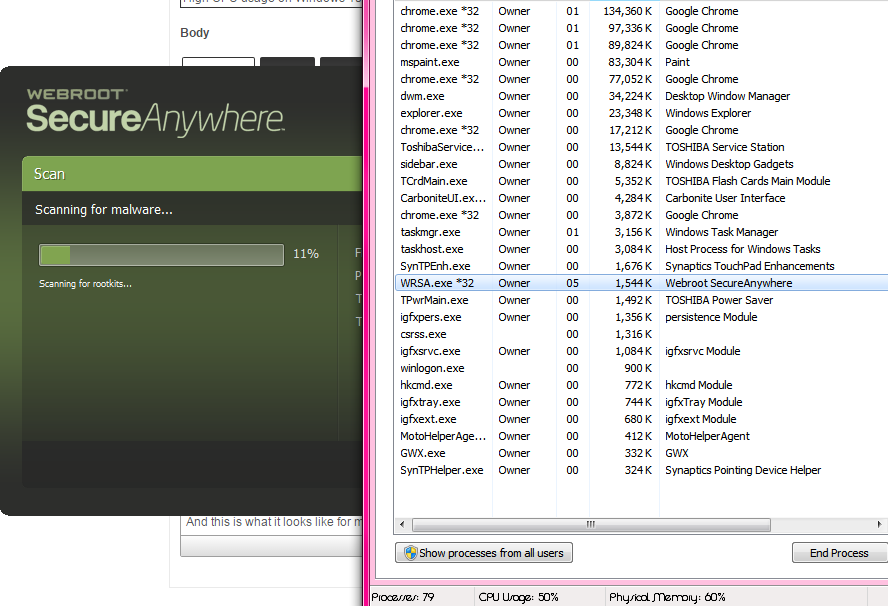 And this is what it looks like for me while I'm scanning.
Is Webroot not optimized for Windows 10 quite yet or is it some new setting in OS causing this?
I convinced him to install Webroot because it uses so little resources and I've never had a problem with it.
Any help on this?