I´m a relatively recent user of Webroot Internet Security Plus. During a lot of years i´ve used other suite.
My primary notebook got a problem (is under repair) and now i´m using an old one, with a Celeron processor.
So searching for a "light" security suite I saw good reviews of Webroot and I bought the software. It´s easy to use, no impact in notebook performance, it seems great with Windows 10… but…
Now with all pandemic things and a lot of warnings to be careful using internet, i wondered if Webroot works really fine. Searching in google, i saw a lot of sites recommending a method to test if the antivirus is working, with a not harmful file from EICAR (Supposedly it's a very common test).
I accessed to the EICAR website and i´ve downloaded the files. No reaction from Webroot… With the files on my notebook, and scanning each one individually, also no reaction… i got worried… it was supposed to get a false positive. But Webroot do not detects the EICAR… just to be sure if i´ve done all ok, i uninstalled Webroot and installed my other security suite (that makes the notebook slow, slow very slow), and it detected immediately the false positive, and also navigating to the EICAR website the other suite didn´t allow to download the files…
In conclusion, i´m worried, i´ve paid for Webroot, but it fails in a simple test apparently… Is there any explanation? Actually i need a "light" security suite, but that works and keeps me safe… and i´m very concerned… also Webroot do not answer to my support tickets… i do not have a clue of what is going on…
Any ideas…
Thanks in advance to all,
Best answer by DanP 23 April 2020, 22:24
@TripleHelix  Yes, many thanks for the links.
However, what concerns me is if the product is really really working… According to Virus Total as you can see in the pic, Webroot detects EICAR has W32.Eicar.Testvirus.Gen

So, what afraids me is if for any reason, my version is not working well or something like that. Because even in manual scan, no detection.
And in this pandemic days, i (and a great part of the world) really depend of working at pc, so i need to be sure that i´m protected… and the repair of my main laptop appears to be long due to the Covid. So i need to use this Celeron, but, my concern is specially with mantaining all the files and transactions safe.
Regards,
@turista_pt 
Due to the way we detect Eicar, we do have an alternative test file that you can use:
http://download.webroot.com/WebrootTestFile.zip - you'l want to extract the file.
I show the Eicar download blocked in Edge when I try to download it: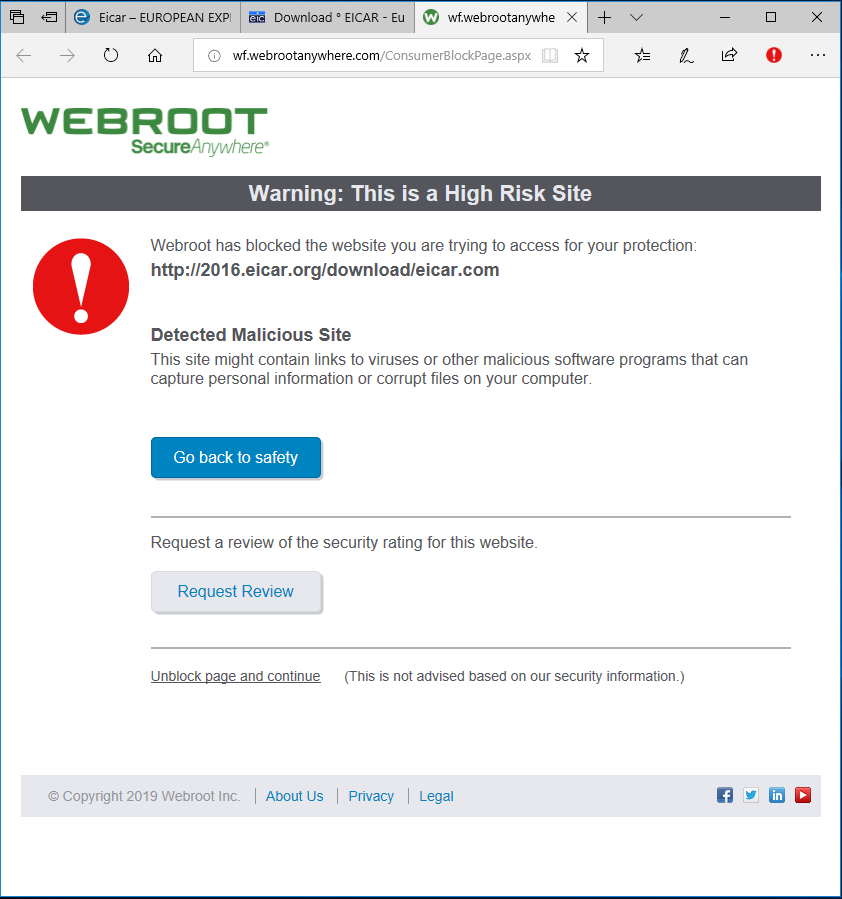 Thanks,
-Dan
View original