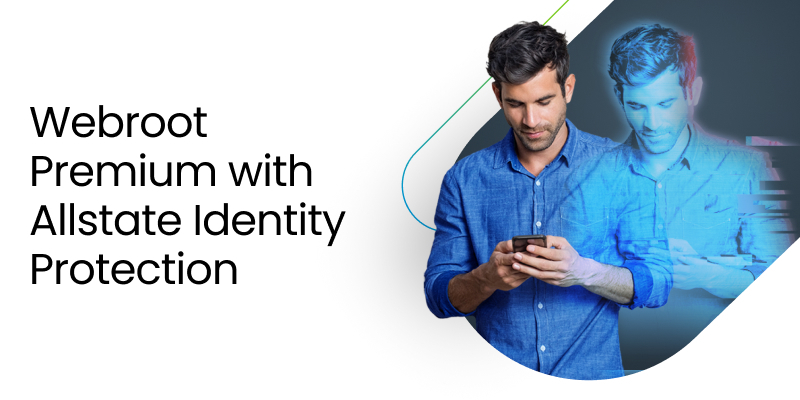 Webroot, award-winning anti-virus protection has now partnered with Allstate Identity Protection. With cyber threats evolving, a comprehensive consumer solution is more crucial than ever. That's why we're offering Allstate Identity Protection add-on to our customers who have an existing Webroot Subscription.
Cybercrime is evolving, your protection should too
The consumer anti-virus market is moving away from single use protection. Consumers want protection that covers their devices, identity, privacy – and they want to purchase it from just one company vs. buying multiple products from multiple companies. Consumers cannot keep up with evolving cyber threats, so they need an expert and trusted partner who can.
Protection for Your Identity
Financial Monitoring

Dark Web Monitoring

Identity Monitoring

24/7 U.S.-based restoration

$25K fraud expense reimbursement
Can be added to existing Webroot Subscriptions: AntiVirus, Plus and Complete.
Support for Webroot Premium, Webroot + Allstate add-on customers on MyAccount Portal

Ability for Existing WSA Customers on MyAccount portal to upgrade to Premium or buy Webroot + Allstate add-on

Ability for Safe consumers on MyAccount Portal to buy Webroot Premium or buy WSA + Allstate add-on

Ability to access Allstate portal using SSO from MyAccount Portal for Webroot Premium, Webroot + Allstate add-on Customers

Allstate Support section on MyAccount Portal Support Page.

Fixes for My Account Portal and Safe Portals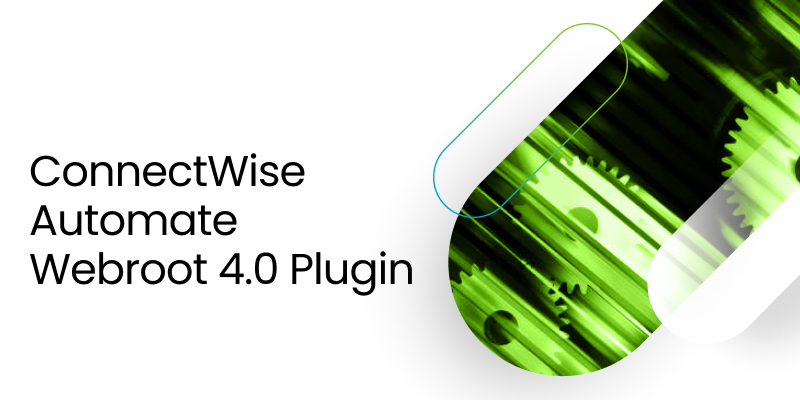 Just in time for the ConnectWise IT Nation, the much awaited Webroot 4.0 plugin for ConnectWise Automate is up and live. This new plugin version comes with a matrix of new features and a fresh database structure to support these features. See below for a comprehensive list of What to Expect from this release:
New in this release:
DNSP Integration

: The plugin comes integrated with Webroot DNS Protection product, for customers that have an active Webroot DNSP subscription. This allows our customers to visualize their DNS data from within the plugin. The DNSP data can be viewed on multiple pages throughout the plugin.

Health check

: To indicate the health of Webroot agent, a new column has been added on Computers page. This enables our clients to monitor the agent status and be aware of any issues.

User security

: To be compliant with CW Automate user groups and their permission sets, the Webroot 4.0 plugin introduces a new checkbox on the Settings page. This user security setting ensures that ConnectWise Automate security model is followed and there is no exposure outside of access rules.

Deactivation

: The 4.0 version also comes with the ability to deactivate a Webroot agent from within the plugin. A new action item is added on the Computers page for users to deactivate a computer directly from the plugin.

Sync Data

: Along with the automatic data synchronization every 6 mins, the 4.0 version comes with a new button on the Settings page that provides the users the ability to synchronize data manually whenever needed.

New Database Structure

: The new DB tables are created keeping in mind the efficiency and robustness of the Webroot plugin. Please note that after an update to the 4.0 version, all user data will be migrated to the new tables and the old tables will no longer be used. There will be absolutely no loss of any user data.
Improvements:
UI

– New improved & attractive UI

Logging

 – Server logs with detailed messages for easy debugging

Tooltips

 – Relevant and easy to understand tooltips

Consistent date formats 

– Time/date format has been made consistent with the server date settings
Demo Videos
This month is our largest release to date. Besides a healthy dose of new templates and courses from established publishers, today we release the first batch of courses from our new strategic partner, Skillsoft. We transition to Skillsoft from our previous partner SAP Litmos, whose courses are now officially discontinued on our platform. Skillsoft brings us a far greater range of topics in Security and Compliance categories which extends coverage to all supported foreign languages – and then some. We join the sales team in our excitement to grow this valuable new relationship. 
New in this release:
Autopilot campaigns

January Training - Autopilot Baseline: BEC - You Never Call… (CORPORATE STYLE)

January Phishing - Autopilot Baseline: Microsoft Office 365 File Share

40 new courses in the Security and Compliance categories from our new publisher, Skillsoft - this first batch is English only

New course from NINJIO: Callback Scam - Call Me

21 new phishing templates adapted from recent Callback (Bazarcall) phishing campaigns and UK Bank scams

Updates and fixes to various phishing templates across all languages
CSB Windows Agent 9.21, BootableMediaCreator 9.20, CentralControl 9.21 and GRExchangeSQL 9.20
New in this release:
Security enhancements have been added in this Windows Agent version

Granular Restore for Microsoft Exchange and SQL version includes improved debug logging for easier troubleshooting
CentralControl:
Log viewer no longer shows parsing errors and legacy messages - (EV-88311)
System Restore from BootableMediaCreator
If a user enters an incorrect encryption password during a system restore, an Authentication failed message appears. In previous versions, an incorrect Vault data corrupted message appeared - (EV-83171)
Paper Certification of CSB Windows Agent 9.21 and BMC/SR 9.20 on Windows 11 22H2 and Windows 10 22H2
We are pleased to announce the 

paper certification of Windows Agent 9.21 and BMC/SR 9.20 on Windows 11 22H2 and Windows 10 22H2 versions
CSB Linux Agent 9.21
 

When you view a Linux Agent log in Portal, information messages no longer appear when you view Errors and Warnings only (EV-89279)

The permissions value for job config files is now 660 (EV-78834)

A warning message now appears in the backup log when a folder cannot be excluded from a backup because it is required for a BMR backup (EV-62628)