Passwords are a pretty fundamental unit of security, and we go on and on about them, from swearing by password managers to boosting for 2FA.
Our most recent version of an annual survey, 2020's Most (and Least) Cyber-Secure States, is a reminder to keep at it. It seems like some common habits—sharing passwords for streaming services, for example—can significantly raise our risk of falling victim to identity theft.
We surveyed 200 Americans from each U.S. state, 10 thousand in total, about whether they typically shared or reused passwords for online accounts.
Being mindful about password security is especially important as hackers prioritize phishing attacks. If one of your accounts is compromised by a well-designed phish, it's fairly simple to cross-check those stolen credentials against a number of other popular sites.
What starts with a shopping site login could lead to impersonations on banking sites, social media accounts, or other scenarios involving identity theft.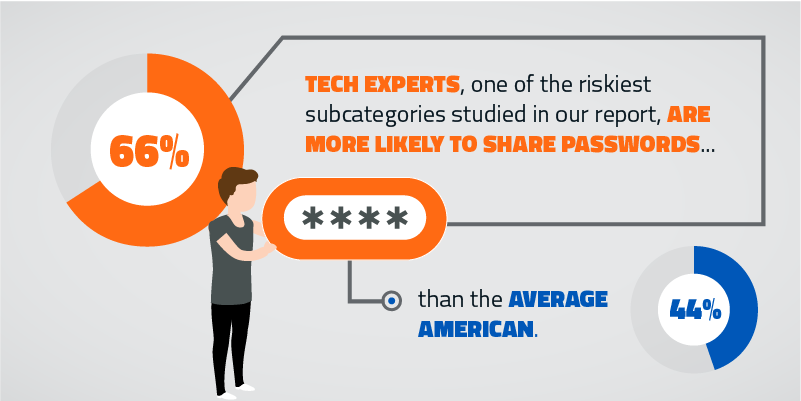 Here are a couple more of the password findings we uncovered:
Tech Experts, one of the riskiest subcategories studied in our report, are more likely to share passwords (66%) than the average American (44%).
"Mile Markers"—those reporting buying houses, starting families, and more closely following the news—shared passwords less than the average American.
Home-based Very Small Businesses (VSBs) are less likely to work with a dedicated IT team. As a result, they are more likely to use their personal devices for work and share passwords. Of these, 71 percent use the same passwords for home and business accounts, potentially cross contaminating their work and personal lives with the same security gaps.
By generation, Gen Z is most likely to share passwords (56%), followed by Millennials (47%), Gen X (33%), and Boomers (19%).
To learn more about how the U.S. stacks up state-by-state in terms of cybersecurity, and how you can shore up your own password practices, sign up for the LIVE Q&A with @TylerM .
Tune in on April 21st at 10:00 AM Mountain Time. Sign up for here.
Check out what our Facebook Fans had to say during our Facebook Q&A