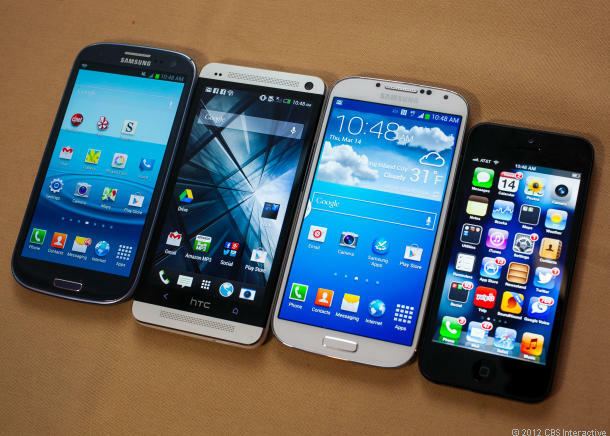 The smartphone market leaders are more entrenched, and that's bad news for the underlings, based on a new study from ComScore.
ComScore's
latest MobiLens report
had no shifts in status among the major phone manufacturers and mobile operating systems in the three months ended in May, but the top two in both fields gained share while the bottom three all lost ground.
Apple ranked as the top phone maker with 39.2 percent of U.S. smartphone subscribers, up 0.3 percentage point from the prior quarter, followed by Samsung with 23 percent market share, up 1.7 points.
But HTC , Motorola, and LG, which rounded out the top five, and all lost share.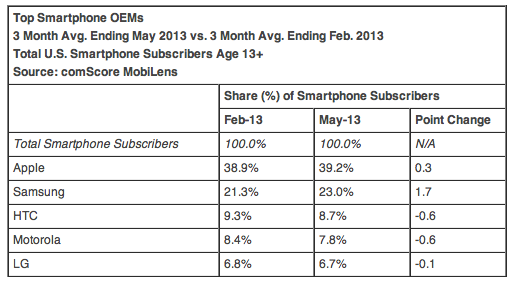 As they have for more than two years, the top operating systems all held their rankings. Google's
Android
and Apple's iOS remained No. 1 and 2, respectively, with both rising. Blackberry, Microsoft and Symbian systems all declined.
Blackberry's rate of decline wasn't as sharp as it had been in previous ComScore reports, but that's little relief on a day the company's shares plunged 27 percent
after a bleak quarterly report
.
Overall, more and more Americans are choosing smartphones as their mobile option. In the latest three-month period, 141 million people in the U.S. owned smartphones, which is 59 percent mobile market penetration.
During the period of the latest study, the
Blackberry Z10 launched
a month before Samsung
rolled out its Galaxy S4
, and the
HTC One also debuted
.
Source: Cnet.