These days criminals will try anything to scam you out of your hard-earned money. The scam below was recently reported to us by a Webroot user and we have had a few additional calls about it as well.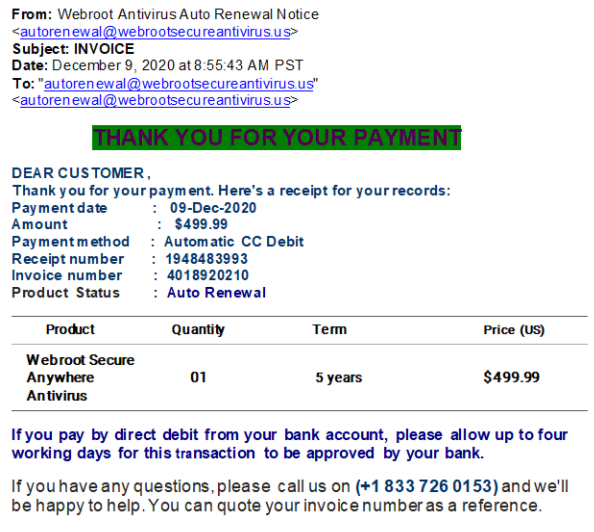 The invoice has a phone number with an +1 833-area code to call in case of any questions (which of course you will have if you think $499.99 has been automatically charged to your credit card)! 
The scam is simple: 
You call the number and dispute the charges.  

The scammer at the other end of the line says, YES it's a mistake in Webroot's systems, sorry etc. 

They can refund you right away, can you provide your credit card information in order to reverse the charges.  

They use your credit card details to do their worst with your money! 
Unfortunately, it's one of thousands of phishing scam attacks we see each day through Webroot's BrightCloud Threat Intelligence service, and we are aware of this and many other fraudulent Webroot websites and phone numbers on the internet.  
Check out this article for more information on these types of scams and what you can do to be better educated on them. 
Like the other phishing emails and associated URLs and IP addresses, this information is identified, analyzed and classified by Webroot BrightCloud Threat Intelligence. Once it is added to our database, our community of Webroot users are protected automatically.
The thing to remember is not all phishing attacks and scams need you to click on a link. In this case it's calling a toll-free number beginning with the US area code of 833. As this article discusses, the 833 area code is often associated with malware and should ALWAYS be treated as suspicious. 
For more information and tips on how you can stay safe from scammers this holiday season, be sure to visit the Webroot blog.